The NFL Owes Its Success to Native Americans, So Why Does It Still Mock Them?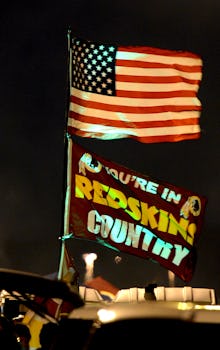 The NFL is back in full swing, and so is one of its most profitable franchises: the Washington Redskins.
It's a team that's defiantly sticking to its racist name, despite years of protests and lawsuits against it. Even President Barack Obama has weighed in, and said the team name should be changed because it's patently racist. Even though the issue has gained traction elsewhere, such as when the California Assembly recently passed a bill to ban the name "Redskins" in the state's public schools, not much has changed in the nation's capital.
"If I were the owner of the team and I knew that there was a name of my team — even if it had a storied history — that was offending a sizable group of people, I'd think about changing it," Obama said in 2013.  
But team owner Daniel Snyder has refused to change anything. In fact, he's insisted the name is actually a celebration of Native American culture. The Washington Post published a letter Snyder wrote to season ticket-holders in 2013:
"'Washington Redskins' is more than a name we have called our football team for over eight decades. It is a symbol of everything we stand for: strength, courage, pride, and respect — the same values we know guide Native Americans and which are embedded throughout their rich history as the original Americans."
Not surprisingly, many Native Americans disagree.
The irony is that the NFL, a multibillion-dollar business, owes much of its success to Native Americans. Specifically, to those who played the game at Pennsylvania's Carlisle Indian Industrial School at the turn of the 20th century.
As gruesome as football is today, it was much more violent in the early 1900s, nearly leading to the game's extinction. In 1905, for example, 19 people died from injuries suffered on the football field. In order to make the game safer, new rules were instituted that changed the way it was played. Specifically, the forward pass, in which the quarterback throws the ball to a running back or receiver, was born. And the first team to master it was Carlisle, led by its coach, a man named Pop Warner. 
In 1907, the Carlisle team traveled to to play the University of Chicago, then one of the country's most successful programs. With 27,000 people watching in the stands, many of whom chanted viciously racist slurs, Carlisle pulled off one of the biggest upsets in history and beat Chicago — thanks to a spiral pass. 
That spiral pass has gone on to become one of the most important facets of modern football. Many of the game's greatest players — think Joe Montana, Tom Brady and Jerry Rice — made their mark either throwing or catching forward passes. The history of Native Americans' contributions, which has been documented beautifully by RadioLab and Indian Country Today, has largely been forgotten; in the case of the football team playing for our nation's capital, that history is pretty much trampled. But if you're a football fan, you can thank these guys for the game that you love.