This Moment Between Winnie Harlow and a Young Fan Shows Why Beauty Diversity Matters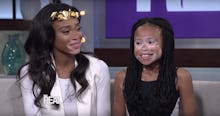 We're gonna need to break out the tissue box for this one. 
On Thursday's episode of The Real, model Winnie Harlow surprised one of her biggest fans, 10-year-old aspiring model April Star. The two have the same skin disorder, vitiligo, and their exchange reflects how powerful and important it is for a young person to find a role model they can relate to — and who looks like them.
Before Harlow made her appearance, The Real's Jeannie Mai asked Star who her idols are. She racks off the names of two models who have skin disorders: Harlow and Shaun Ross. Mai then asks Star what she would say to Harlow if she ever met her. "You are probably the most confident person that I know on Instagram, and I wish that I could meet her," Star says. 
So Mai suggests they give Harlow a call... and once they get Harlow on speakerphone, she reveals she's actually backstage. 
Role models at all ages: Teary-eyed from the start, Harlow sits down with Star and makes an emotional speech about her own body confidence issues as a young girl.
"Every time I see [Star] all over the Internet, I see the little girl I could have been at her age," Harlow says. 
"The confidence I have now ... I had none of at her age so when I see her all over the Internet and social media, I see the little girl that I wish I could have been."
Harlow elaborated further on the bullying she experienced in middle school, saying, "As kids get older and a little bit more knowledgeable to certain things, they tend to get meaner." The bullying became so intense, Harlow says, she dropped out of high school. 
The experience empowered her, so much so she promised herself she would never "allow bullies to make that big of an impact" on her life again. 
One big part of not letting bullying and insecurities take over is having inspiring examples to look to — which is why models, especially those who defy typical beauty standards, are so important.
Harlow is one of these types of rising fashion models showcasing a beauty who lives outside the standard. She joins people like Ross and plus-size models like Ashley Graham, Marquita Pring and Candice Huffine, who are taking a stand for themselves and also showing young fans a different example. 
Pring and Harlow both appear on the cover of the September issue of Ebony magazine, joining fellow model Diandra Forrest, who has albinism. "The cover is so iconic," Harlow said on The Real. "All shades, all colors. All types." 
And in showcasing all shades, colors and types, the cover models provide powerful examples to girls like Star.
The Real co-host Loni Love told Harlow that she is a "trailblazer because now Ms. April has someone like you." Love also asked Harlow what advice she would give to Star. 
"I don't think she needs any advice. She's perfect," Harlow says. "She's a step ahead of where I was so she's on the right track." 
Harlow takes a final look at Star and says, "[This is] the next generation right here."
Watch the touching interview below.