Viola Davis Was Never Discriminated Against, Says White Actress Nancy Lee Grahn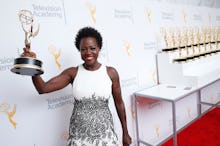 Viola Davis made history Sunday when she became the first African-American woman to win an Emmy award for best lead actress thanks to her role on ABC's How to Get Away With Murder. She also won the night with an electrifying acceptance speech that called out the lack of roles written in Hollywood for women of color:
But not everyone was impressed. Nancy Lee Grahn, a white actress who's known for her work on the long-running soap opera General Hospital tweeted that while Davis is brilliant, "she has never been discriminated against."
Face the facts: Grahn's misguided complaint flies in the face of what Davis herself has repeatedly shared with the public in recent years. In an infamously shady New York Times review before the premiere of How to Get Away With Murder, then-television critic Alessandra Stanley called Davis "older, darker-skinned and less classically beautiful" than Hollywood's other leading black ladies, like Kerry Washington and Halle Berry. 
That review caused an uproar for its obvious bias, but it wound up being a good example of exactly the type of thinking that structurally limits opportunities for actresses of color. Davis herself referenced the piece when she won a People's Choice Award earlier this year and thanked producers Shonda Rhimes and Betsy Beers and creator Peter Nowalk for "thinking of a leading lady that looks like my 'classic beauty.'"
There's also no denying that Hollywood has long had a diversity problem. Last year, researchers at the University of California published a report that found over 90% of Oscar-winning films released in 2011 were directed by and starred men. In the 2011-2012 television season, only 20% of Emmy-winning shows are created by women. The impact of those numbers is huge. As researchers wrote, "When media images are rooted primarily in stereotype, inequality is normalized and is more likely to be reinforced over time through our prejudices and practices."
Looks like Grahn finally realized her mistake. She apologized, saying that she needed to "check [her] own privilege." 
September 21, 2015, 3:34pm EST: This story has been updated.