These Legendary San Francisco Artists Probably Couldn't Afford to Live There Now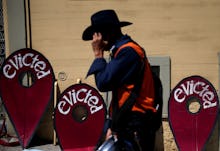 Before it was a bastion of tech innovation and Google Bus battles, San Francisco was best known for its lefty politics and scrappy arts scene. But according to a new survey of artists in the area, that's quickly changing. Like most lower- and middle-income families, artists can hardly afford to live in the city these days.
The San Francisco Arts Commission surveyed nearly 600 artists and found that a whopping 70% had been or were actively being displaced from their homes, workplace or both. Take Yolanda López. She lived in the city's historically Latino Mission District for 40 years, where she created an iconic piece of Chicana art (pictured below). Last year, she was evicted from her home. 
The experience led her to create one last piece of San Francisco art: an eviction garage sale, which drew attention to skyrocketing rates of displacement in the city. 
Why artists matter: López's is just one of many cases, but it sheds light on the type of art and artists San Francisco may never have attracted if they had to pay today's exorbitant rents. Evictions have become so widespread that another Bay Area artist, Jesus Barraza, has begun putting up what he calls "eviction zone" signs around the city:
Barraza told Mic he became familiar with the Mission when he went to wortk at the Mission Cultural Center in 2001. "That's when I became an active printmaker," Barraza said. "I learned there was a really rich history of artists in the Mission going back to the 60's and 70's of people who had initiated a Chicano and Latino arts movement that was really important in terms of helping sustain community. To see the many artists who've been pushed out are really making that movement fall apart, a new generation won't have the same support as they did in the past."
Without such an investment, we may not have artists like these:
Carlos Santana
Santana immigrated to San Francisco with his family from Mexico when he was a teen in the 1960s. They landed in the city's Mission District, where the young musician eventually formed a band that earned early acclaim in the city's burgeoning rock scene. 
Ntozake Shange
A poet and playwright, Shange began performing monologues in coffee shops and theaters around San Francisco in the early 1970s. Those pieces would eventually become For Colored Girls Who Have Considered Suicide/When the Rainbow Is Enuf, which became a hit on Broadway from 1976 to 1978 and was adapted into a 2010 film by director Tyler Perry.
Margaret Cho
Comedian Cho was born into a Korean-American family in San Francisco in the 1960s. She later described growing up in the city's Haight-Ashbury district: "I grew up and went to grammar school on Haight Street during the '70s. There were old hippies, ex-druggies, burnouts from the '60s, drag queens and Chinese people. To say it was a melting pot — that's the least of it. It was a really confusing, enlightening, wonderful time."
Janis Joplin
Joplin came to San Francisco from small-town Texas in the 1960s and eventually found fame by performing in the city's iconic rock scene of that era.
Jessica Hagedorn
A novelist born in the Philippines, Hagedorn came to San Francisco with her family in her early teens. Much of her fiction, including the award-winning book The Gangster of Love, is set in the city.
Maya Angelou
Long before she became one of the United States' most celebrated poets, Angelou was a teenager in San Francisco who made history as the city's first black female streetcar conductor. 
A changing city: The political, cultural and economic diversity that made San Francisco famous is quickly eroding. The city is becoming what the Huffington Post called a "playground for the rich." San Francisco still banks on its reputation — it's among America's most popular tourist destinations. But the things that made it unique are slowly fading into memory.