Woman's Expulsion From Florida Airport Is Just One Example of Everyday Transphobia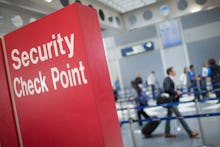 Shadi Petosky just wanted out of Orlando, Florida. On Monday night, Petosky, a 35-year-old transgender woman who lives in Los Angeles, attempted to board a flight at Orlando's International Airport when she was detained by the Transportation Security Agency. The reason? According to Petosky's live-tweets of the ordeal, agents were worried about an "anomaly" — her genitals.
Traveling while trans: Airports have become a battleground for many marginalized communities. The phrase "flying while Muslim" was coined in the years after Sept. 11, 2001, when Muslim travelers, or those who appeared to be Muslim, reported being subject to heightened levels of scrutiny by airport security. Transgender people, however, face their own airport battles, according to the National Center for Transgender Equality. 
"The right to travel freely is a fundamental human right, yet travelers across the country continue to express concerns about the intrusive security screening procedures used by the Transportation Security Administration," the organization says in a "Know Your Rights" guide. "These procedures can be invasive of everyone's privacy and are of particular concern to transgender people because of their potential to 'out' people in unsafe ways, potentially leading to harassment and discrimination."
The TSA does have a specific policy on how transgender travelers are to be treated in airports across the United States. According to its website:
Transgender persons should use the name and gender that appears on their government-issued ID when making flight reservations and at the security checkpoint. You may ask that carry-on bags be screened in private if a bag must be opened by a TSA officer to resolve an alarm. Screening can be conducted in a private screening area with a witness or companion. You may request private screening or to speak with a supervisor at any time during the screening process.
But those policies aren't always followed. According to a National Transgender Discrimination Survey, 17% of trans people reported being harassed at the airport or on an airplane and 11% said they'd been denied equal treatment.
TSA spokesman Mike England provided a statement to the Advocate, saying their officers are properly trained to scrren transgender flyers and that the agency reviewed the incident. "After examining closed circuit TV video and other available information, TSA has determined that the evidence shows our officers followed TSA's strict guidelines," he told the Advocate. "Supervisory personnel and a passenger support specialist participated in the screening to ensure guidelines were met."
Obviously, traveling while trans is still a big problem. 
h/t Vox