TI New Album 2015: Release Date Info and Guest Artists for 'The Dime Trap'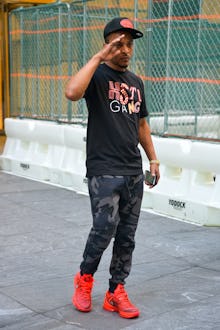 After parting with Columbia Records earlier this month, Atlanta-based rapper T.I. aka Clifford Joseph Harris Jr. is working on his 10th full album, The Dime Trap, Complex reports. The album is slated for release later this year, however the "Rubberband Man" singer hasn't specified a date. 
He did let fans know that he's collaborating with Dr. Dre for the album. He also hinted that Jay Z may be featured on the The Dime Trap when he Instagrammed a picture of him and Hova on Thursday with the caption: "The three young Kings seen in this photo came together for one reason. Can u guess?" T.I., also known as TIP, wrote that the answer was "three words, 10 letters. ... Da Dime Trap."  
Although T.I. is known by the mainstream crowd for chart-topping hits like "Whatever You Like" and "Dead and Gone" and for being featured on Robin Thicke's "Blurred Lines," he told MovieWeb in July that he's not trying to top that with the new album. Instead, he's going for a totally different vibe. 
"You just come to a whole new element, bring it back down and build the process back over again," he said. "I'm breaking it all down, back to the element of where my music first began to interest people, and build it all over again."
The rapper compared the feel of his upcoming album to Trap Muzik, his sophomore album released back in 2003. T.I. described that album as "when a young man moved from the streets to come up in a major way. When he took the city on his shoulders and walked it,"Complex reports. 
T.I. left Columbia Records with "no bad blood" after his one-year contact ended, according to Complex. The rapper dropped one album, Paperwork, produced by Pharrell Williams, on the Columbia label in October. 
In an interview with HitsDailyDouble, T.I. said he's looking forward to producing indie music. "Having just exited my deal at Columbia, I was a rogue artist, busting creativity, just waiting to put music in the marketplace," he said. "So while I'm sorting out my next situation, I'm blessed enough to be able to control my destiny and put music out as quickly as I want to."