Photo Series 'Too Young to Wed' Raises Funds to End Forced Child Marriage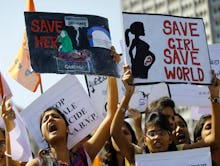 Photographer Stephanie Sinclair's series, Too Young to Wed, was created to bring attention to the plight of child brides worldwide, she told National Geographic in 2011. This month, Sinclair sold prints from her renowned series to raise money for organizations that fight child marriage and provide for former child brides around the world.
The United Nations estimates 14.2 million girls younger than 18 will be forced into marriage each year by 2022. Though it's a violation of the Universal Declaration of Human Rights, poverty, cultural norms and sexual predation push girls into relationships that can often be life-threatening, particularly when those girls give birth before their bodies have even fully developed. According to UNICEF, complications due to pregnancy are the leading cause of death among girls ages 15 to 19.
Sinclair began her project in 2003 while traveling through Afghanistan. A dozen years later, her work is more urgent than ever. "Our main focus will always be to provide powerful visual storytelling, then bring our girls' stories to the world to help inspire an end to child marriage," Sinclair told the Huffington Post. "We would also like to widen the scope of these on-the-ground projects. It's important to us that the communities who share their stories and are open to change, find the support they need."
To see Sinclair's photos, visit Too Young to Wed. 
h/t Huffington Post
Update, September 28, 2015: We removed the photos featured in this story due to a copyright claim.