Catholic School Suspends Gay Student After Being Barred From Bringing Homecoming Date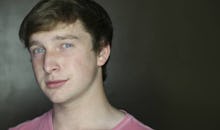 Lance Sanderson is having a rough week. The 18-year-old is a senior at Christian Brothers High School in Memphis, Tennessee, and is openly gay. After trying and failing to convince his administration to allow him to bring a same-sex date to the school's homecoming dance, which took place Saturday, Sanderson walked into school on Monday morning and found out that he'd been suspended. 
"I'm pretty disappointed," Sanderson told Mic. "Tomorrow I was going to meet with reps from a few different colleges that were meeting with students at lunchtime. It's kind of crazy, I don't know how I'm going to make up my tests."
Mic reported last week that the school's administration had denied Sanderson's request to bring a male date to homecoming dance. At the time, an administrator wrote in an email to Sanderson that he "really struggl[ed] with [the school's] permitting" Sanderson to bring a same-sex date.
Sanderson told Mic that he was called into an administrator's office early Monday morning. When he walked into the room, he met with multiple administrators who told him that he was, in effect, suspended. "They explained they had gotten some bad press, had 890 kids to deal with and they asked me to go home for the week," he said.
Christian Brothers High School has not responded to media requests by press time.
The suspension is an unfortunate new chapter in this ongoing saga. School dances have long been places where perspectives and politics often clash. Just two years ago, a high school in Georgia held its first integrated prom. More recently, LGBT students have fought for a chance to be recognized at official school dances with varying degrees of success. In 2012, a lesbian couple in Lexington, Kentucky, made news after they were turned away from their school's prom and had an impromptu dance party in the parking lot instead. Other religious schools, like McQuaid Jesuit High School in Rochester, New York, have welcomed same-sex couples. 
Sanderson said he'd never had disciplinary trouble with the school prior to this incident. "I am hurt by this exclusion," he wrote in a letter to the administration obtained by Mic. "It goes against the Lasallian value of brotherhood that the school is supposed to stand for. You won't let me dance with my date and you won't let me go to class now either. I had hoped that today would be one for positive conversation going forward. Instead, I was sent home."