Katy Perry Was Groped by a Fan on Stage in Rio de Janeiro and It's Not OK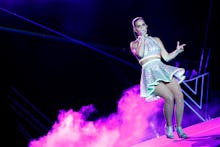 When Katy Perry performed Sunday in Rio de Janeiro, she probably didn't expect to be felt up in front of thousands of fans. But that's exactly what happened when the singer invited another young woman on stage who seemed a little too excited to be there. 
The whole interaction seemed innocuous enough. Perry joked that the fan was obviously rolling on Ecstasy and needed water, and laughed throughout the entire thing. But she was also visibly uncomfortable with the interaction with a complete stranger who clearly had no sense of physical boundaries. 
You can't touch this: Perry's not the first artist in recent years who's found out that groping seems to be an occupational hazard. Last year, Australian rapper Iggy Azalea said she had to stop crowdsurfing altogether during shows. "I'm only doing like 2,000-seaters, but I still have to have barriers, even if it's like 200 people, because people try to finger me," she told New York radio station Hot 97. What's worse, these assaults seem to be premeditated: "I will get lurk tweets for like a week before my show, like 'I'm about to go to the Iggy Azalea show and I'm going to finger her,' and I'll see it and be like, please don't! That's a violation. I don't actually like that stuff."
To protect herself during shows, Azalea has taken some pretty extreme precautions. "Now, no lie, I wear two pairs of underpants and then a pair of skin-colored tights and then my pants as a protection barrier," she told Hot 97. "There's just no way I'm going to be intruded."
Sexual assault knows no gender. Male artists face sexual assaults on stage too. During a show in Minneapolis back in 2013, rapper Danny Brown got head on stage. And while he later bragged about "not missing a bar" during the ordeal, many were left wondering if the incident itself was a blatant sexual assault witnessed by thousands of fans. Artist Kitty Pryde, who was on tour with Brown at the time, later wrote at Vice:
I will also say that whoever wrote on Reddit that Danny was "walking around the stage getting girls to grab his dick" is 100% false, and to blame someone for their own molestation is a shitty thing to do. Anybody who is exaggerating this tale to climax is also a lying fool, and to call it a blow job is even going a bit far because it was probably the fastest thing I've ever seen. "The Thing" was not a thing that Danny facilitated — it was an actual sexual assault, and somehow nobody gives a fuck about that but me. It's obvious that the reason nobody cares is because a girl did it to a boy. 
Sexual assault can happen to anyone, anywhere, at any time. But when it happens onstage, in front of thousands of people, the truth of why sexual assault happens in the first place becomes abundantly clear: It's always about power, and never about sex. It's a lesson that America's most famous artists are, sadly, teaching us again and again.