Coachella May Spread to New York City Next Year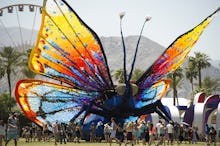 Coachella, the country's largest and most notoriously basic music festival, may be about to expand its reach. According to the New York Daily News, AEG Live, the entertainment giant behind Coachella, has been talking with New York City to bring one of its festivals to Flushing Meadows Corona Park.
Reportedly, AEG is looking to launch as soon as next June, scheduling their festival two weeks out from the smaller, independently run Governor's Ball Music Festival. If all unfolds according to plan, Governor's Ball's days might be numbered.
Coachella's East Coast sister is tentatively called Panorama. According to Gothamist, it's already booking headliners. The potential scheduling conflicts and amount of money in play could turn simple act of finding performers could turn into a fight for the soul of NYC music festivals.
"New York City is big enough for two music festivals, but the proposed timing of this sets up an unnecessary rivalry," Governor's Ball co-founder Tom Russell told Gothamist. "We're a small, local promoter up against a big corporate machine. We know how those fights typically work out."
Another festival could bring more money into the city. Governor's Ball raked in $40 million for the city last year; compare that to the $254.4 million economic impact Coachella brought to the Coachella Valley in 2012, according to a study by Golden Voice. If both festivals can sustain audiences, New York may be looking at another potential gold mine, and a force strong enough to revitalize the sections of Flushing Meadows Corona Park that have deteriorated since the 1964 World's Fair.
If Panorama comes together, of course, the price will be just that many more GIFs of wasted, neon-bedecked teenagers flooding the Internet next summer.