Where Top 2016 Presidential Candidates Stand on Gun Control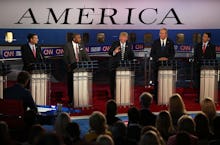 A mass shooting on Thursday at a community college in Roseburg, Oregon, has left 10 dead and seven people injured, Oregon State Police confirmed. The shooting marked the 142nd school shooting since the Sandy Hook massacre in 2012 and the 294th mass shooting this year. 
While reports about the shooting were circulating, 2016 presidential candidate Jeb Bush took to Twitter to share his sentiments about the "senseless tragedy." 
Many Twitter users responded to Bush's tweet, pointing out that he failed to mention anything about gun control in his statement. 
This is where the top 2016 presidential candidates stand on gun control:
Retired neurosurgeon Dr. Ben Carson: At a National Rifle Association assembly in April, Carson confirmed his support for the right to bear arms. "Just for the record, let me be extremely clear: I am extremely pro-Second Amendment, no question about it," he said.
Former Hewlett-Packard CEO Carly Fiorina: In a message to the NRA published on her official YouTube channel in April, Fiorina thanked the NRA for "supporting our right to bear arms."
Florida Sen. Marco Rubio: Rubio introduced the "restore Second Amendment Rights in the District of Columbia" bill in March to amend the capital's gun laws to make it easier to obtain firearms. Following the Sandy Hook massacre, Rubio voted against the Senate legislation to expand background checks on gun purchases, Business Insider reports.
Vermont Sen. Bernie Sanders: Some have questioned Sanders' stance on gun control policy, largely because he voted against the 1993 Brady Act, which required background checks before obtaining a gun. His voting history, however, shows that Sanders voted against the Brady Act because there was a waiting period for background checks. Sanders said he voted for instant background checks, which he called "probably the most important thing we can do," the Washington Post reports. Sanders insisted that he's an ally for gun control advocates in an interview with CNN's Jake Tapper in August, saying he's "been strong on the issue."
Former Florida Gov. Jeb Bush: To answer those Twitter users' questions, Bush is pro-guns. "Florida is a pro-gun state. Gun violence has dropped. There's a reason for it," he told CNN after a speaking at a town hall event in Nevada in June. "We created a balance that's focused on lowering gun violence but protecting the Second Amendment, and it's a model for many other countries and many other states because of that."
Former Maryland Gov. Martin O'Malley: O'Malley has indicated he plans to make gun control a focal point of his campaign, Business Insider reports. His campaign spokeswoman, Haley Morris, told Business Insider that he's "fearless" about gun control, citing his gun control efforts as the governor of Maryland. "Gov. O'Malley was fearless in taking on gun control in Maryland — standing up even to members of his own party to get results," she said. "This is an issue you will be hearing more about from him." O'Malley enacted legislation in Maryland that banned weapons, limited handgun magazines to 10 rounds, and requiring gun owners to provide their fingerprint, TIME reports.
Real estate mogul Donald Trump: Trump said on his official website that he supports the right to bear arms. "Our Founding Fathers knew, and our Supreme Court has upheld, that the Second Amendment's purpose is to guarantee our right to defend ourselves and our families," he wrote. "This is about self-defense, plain and simple."
Former Secretary of State Hillary Clinton: Shortly after the Roanoke, Virginia, shooting that killed two journalists, Clinton stressed the importance of ending gun violence at an event in Iowa. "We have got to do something about gun violence in America, and I will take it on," she said. She promised to fight to "balance" the second amendment to prevent tragedies such as the Virginia shooting, saying that there is "so much evidence" that with stricter gun laws "we could prevent this kind of carnage."
Clinton took to Twitter on Thursday following the Oregon shooting to call for gun control: 
Oct. 2, 2015, 8:50 a.m.: This story has been updated to reflect the revised official victim count at Umpqua Community College.