The Disregarded Consequences of Gentrification in This New York City Neighborhood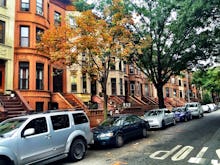 Max moved to the Bedford-Stuyvesant neighborhood in Brooklyn, New York, because the rent was affordable. "I'd heard it was mainly families and residential buildings," he told Mic, "and so I imagined that I was going to be some kind of anomalous white renter in a neighborhood where black homeowners wouldn't be threatened by an onslaught of people like me."
Soon enough, though, Max, who only wanted to be identified by his first name to protect his identity, said he realized the neighborhood was not impervious to the trends that harmed many other predominantly black areas across the country. 
"When I moved in, though, I saw that a lot of the houses on the blocks had been foreclosed on," he said. "I remembered the housing market crisis had touched black people far more severely than anyone else, so of course this neighborhood wasn't as safe from the forces that allowed my presence as I'd thought."
The changes in racial demographics and the social economic status of residents tend to be two of the most prominent features of gentrification. The same is true in Bedford-Stuyvesant, known locally as Bed-Stuy. While articles have been written debunking the negative effects of gentrification and some have argued that gentrification is a myth, the changes in Bed-Stuy may reveal some of the unexpected effects of this phenomenon that deserve public attention.
Gentrification has a certain economic impact on a neighborhood, but it also affects local culture. "Cultural gentrification is the shift of demographic populations in a neighborhood, most commonly seen as higher income white populations inhabiting 'black spaces' — predominately lower income neighborhoods of color," Toni Griffin, director of the J. Max Bond Center at City University of New York, told Mic. 
The face of Bed-Stuy: In 2000, black residents made up the majority of the neighborhood: More than 110,000 of the estimated 144,000 residents were black, while white residents totaled 2,056, according to the New York City Department of City Planning. Ten years later, out of nearly 153,000 residents, 98,780 black people were left in the area, while the white population increased by 709% to 16,634 people, leaving many to question where black residents have gone and whether their seeming displacement has brought about neighborhood investment.
Now with brunch spots, organic food markets, cozy bars and little boutiques, parts of today's Bed-Stuy looks very little like the one people once feared. "It's night and day. It's two different neighborhoods," Josie Ultarte, a black Latina who owns Bed-Stuy women's retailer the Little Red Boutique, told Mic. "None of these amenities were here. There were no great stores. There were no great restaurants."
Ultarte moved to Bed-Stuy 14 years ago. She came in search of a home because she was priced out of Harlem in Manhattan. Ultarte said she "fell in love with the community" after purchasing her brownstone, one of Bed-Stuy's most characteristic features.
Black residents come together. With changes in this neighborhood, the movement to preserve black homeownership of brownstones has been renewed. According to a historical account by the Brownstoners of Bedford-Stuyvesant, a collective of black neighbors organized in 1978 to contribute to the community's development, "In those days, urban renewal meant urban destruction and displacement, and people all over the neighborhood were determined to hold onto Bedford-Stuyvesant's magnificent housing stock."
At the time, young people and families were leaving the neighborhood in droves due to a lack of public services and unfair banking policies that shut out people of color from owning property. "They were leaving the homes, apartment buildings and commercial properties that their parents and grandparents, those first generations of African-Americans from the South and the Caribbean, had labored to acquire," the account states.
Decades later, Bed-Stuy has been characterized by black collective striving and community, despite the odds. Bed-Stuy is the type of neighborhood where block parties and community barbecues animate the summer seasons. In fact, one of the most well-known block parties hosted in the neighborhood is Spike Lee's annual event held in honor of Michael Jackson. This year it took place on the newly minted Do the Right Thing Way, a section of Stuyvesant Avenue now named after Lee's movie that put Bed-Stuy in the public imagination. But black uplift may not have been enough to convince businesses Bed-Stuy was a neighborhood worthy of investment.
"There were no real estate agencies here," Ultarte told Mic. "They wouldn't even consider coming here. To them, I'm almost sure they thought that the community wasn't ready, although the community has always been ready for all these great things. The different dynamic of people coming in is what made these businesses want to come here now all of a sudden."
A change in tone: Bed-Stuy has not always been depicted as the type of community others would invest in or love so easily. As the racial demographics shift and more white people move into the neighborhood, both its depiction and infrastructure are seemingly changing.
In a Source article reporting on an alleged dispute between a gang and New York City Police Department officers published in 2014, the author begins with the line, "It's beginning to look a lot like war for Christmas in 'Do or Die' Bed-Stuy." The line recalls a black neighborhood envisioned as a notorious hood in the public imagination because of the ways it was represented in popular culture as if it were rabidly lawless.
Brooklyn's own Biggie Smalls rhymed about Bed-Stuy in hits like "Unbelievable," released in 1994: "Live from Bedford-Stuyvesant, the livest one/ representing BK to the fullest/ Gats I pull it/ Bastards duckin' when Big be bucking." In some regards, Biggie's lyrics offered a bleak but honest window into the world of a densely populated black neighborhood affected by a range of social and economic ills that still persist today.
Bed-Stuy is one of several enclaves in New York City, for example, where black people have been disproportionately impacted by the NYPD's stop, question and frisk practices — a practice that was ruled  unconstitutional and racially discriminatory in a 2013 federal court decision. White residents, whether in gentrified Bed-Stuy or elsewhere, are least impacted by the NYPD's fraught practice. To some residents, the neighborhood's transformation ostensibly offers much more than increased residential and business options. Many will be afforded respect, safety and value because of their race. Gentrification is a conundrum.
In 2001, there were 25 murders, 42 incidents of rape, 636 robberies and 599 felony assaults among other crimes committed in Bed-Stuy, though by 2014, crimes across all indicators decreased by 29.6%, according to the NYPD. But Biggie's Bed-Stuy is not necessarily the Bed-Stuy experienced by all residents all of the time.
"The section that I grew up in was very undiscovered in terms of the way we think of Bed-Stuy today," Doug Jones, a longtime black resident of Bed-Stuy and recent homeowner, told Mic. "It was a very normal, everyday, comfortable, sleepy, middle to upper-middle class, African-American, Caribbean-American community. So I'm always interested to hear people talk about 'the good old bad days,' or 'the better days.' I mean, is there less crime in Bed-Stuy today? Yes, there is. But there's also less crime in New York City."
Bed-Stuy has not only been imagined as a black space, but a black space that has been home to the black middle class and black working poor. The black working poor come closest to those residents who tend to figure in popular depictions of Bed-Stuy as a rough neighborhood in the past and now.
"Again, I think you have to look at Bed-Stuy in the entire breadth and scope of what it was," Jones said. "Were there sections of Bed-Stuy that you didn't go to? Absolutely. There were sections of Gates Avenue that were a mess, that still are a mess. We didn't cut through Jackie Robinson Park on our way to the train station at a certain hour in the morning."
The cost of settling down. The black working poor also seems to be the demographic that has been positioned to lose the most throughout Bed-Stuy's recent history. Yet fast-forward to 2015 and Bed-Stuy is not only perceived as less terrifying, but a worthwhile neighborhood to live in and plant a business. People and businesses are now coming to the neighborhood for its money-making potential. Home values are increasing, despite the likely deleterious impact it will have on renters and the working poor.
The average rent of a one-bedroom apartment, for example, had increased from $1,428 per month in May 2011 to $2,090 this summer. In fact, one recent rental listing boasts a $13,985 per month price tag for a five-bedroom home, leaving some to question which demographic will be able to afford living in Bed-Stuy in the future.
The median income of residents in Bed-Stuy has also increased over the past 10 years, according to the New York City Department of City Planning. In Bed-Stuy, the median family income is up to $41,665 while the median income in New York City overall during the same time was $52,259. Expanded housing and commerce options may be signs of hope, but not for everyone. 
Widespread migrations to black neighborhoods may not result in an increased awareness of and respect for black cultures and peoples. "There's a different kind of sociality in a black neighborhood than there was in the mainly white one I grew up in — people interact in public much more," Max, the new Bed-Stuy resident, told Mic. "I'm also way more aware of my whiteness than I would have otherwise been, I think."
The erosion of community connections, cultural ethos and traditions of neighborhoods may be a few of the soft consequences of gentrification. These problems may inevitably impact communities' economic conditions. Some residents may observe the obvious changes, like business development, but miss the more insidious occurrences, like a slow devaluation of black people and their cultures. 
"I am very used to — in the morning time, even today — stepping outside and saying 'Good morning' to people and 'Hello' to neighbors and people I don't even know," Jones told Mic. "And to experience from younger white people, who I might perceive to be professional class, this kind of abruptness, not even seeing who is around them, I was like, 'How interesting.' [Bed-Stuy] is losing some of that and that is problematic — this loss of interpersonal intimacy. This intimacy that Bed-Stuy has always had."