In One Quote, Rihanna Explains Why She Thinks Rachel Dolezal Is a Hero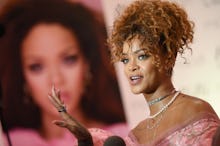 Rachel Dolezal, the former head of the NAACP in Spokane, Washington, may have earned the ire of black people across the United States when the world found out she'd been falsely presenting herself as an African-American woman, but she earned at least one important fan: global pop star Rihanna.
In an interview with Vanity Fair, Rihanna made her case. "I think she was a bit of a hero because she kind of flipped on society a little bit," she told the magazine. "Is it such a horrible thing that she pretended to be black? Black is a great thing, and I think she legit changed people's perspective a bit and woke people up."
Black Twitter was unimpressed: 
Rihanna's point — that Dolezal framed being a black woman desirable — might be well-taken if it weren't for the fact that actual black women have been doing the same thing for millennia. Rihanna, of course, is one of them. 
Rihanna has shown the world time and again the beauty in living life as your authentic self. She's made mistakes, she's owned up to them and she's gone about her ass-kicking, tattoo-loving way. Her story's been a powerful one: She grew up in Barbados with a father who battled addiction, made it big in the States and came into a complicated black womanhood under the gaze of media spotlight. It's the type of heroic feat black girls around the world not only recognize, but live out in their own ways on the daily. Got that great job? Props. Didn't get that great job? You're still dope. Finally cut off that abusive relationship? Even better. Still struggling to find your way? That's OK too. 
These things are remarkable on their own, but when done by black women who wear the reality of racism and sexism every day, they're extraordinary. You can be flawed and still beautiful, frustrating but still powerful. But most of all, you can be black in myriad of ways that race dictates without, like Dolezal, completely fabricating your past.
We still love you, Rih Rih. You're the real hero.