This Is What "Grunge" Looks Like Today (and You Probably Won't Recognize It...)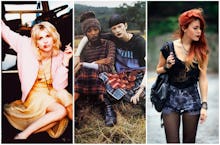 The year is 2015 and, according to the Internet, this is what "grunge" looks like: 
Confused? Sure, we know you thought grunge looks like this:
The new grunge: For whatever reason, more than 20 years after grunge broke onto the scene (and before some of these Tumblr-using, all-black-everything devotees were even born), "grunge" has gone through an overhaul.
At time of writing, there are 7,649,921 posts tagged #grunge on Instagram, not to mention the countless posts tagged #grungeblog on Tumblr. The look, as these countless photos show, is all about black clothing, acid-wash jeans and anything oversized. It's also slick, body-conscious and looks pretty expensive.
Black satin slip dresses have replaced colorful babydolls. Shiny new Doc Martens have replaced clunky, unbranded utility boots. Pre-torn jeans have replaced bargain bin oversized slacks. Purposefully oversized sweaters and jackets from Urban Outfitters have replaced the actually thrifted, moth-bitten variety. 
The most obvious difference between the old grunge and the new is how much money is seemingly being shelled out for the sake of looking effortlessly cool and a little bit messy. Walk into any Topshop, H&M or Zara and you'll notice that they're now catering to an audience that wants oversized jean jackets, clingy blouses and skinny black pants. If anything, grunge today is stylized, streamlined, almost French levels of chic.
It's a far cry, basically, from what grunge originally was.
A short history: Grunge, of course, is inherently unfashionable. As the New York Times wrote in 1992, when the trend was starting to peak, "Flannel and leatherette, the boho-hobo staples of second-hand attire, are the basics of a nonfashion statement. A flannel shirt worn around the waist is a precaution against the Pacific Northwest's mercurial clime. Army boots slog effectively through mud." 
"It wasn't like somebody said, 'Let's all dress like lumberjacks and start Seattle chic!'" Jonathan Poneman, founder of Seattle-based record label Sub Pop, told the New York Times. "This stuff is cheap, it's durable and it's kind of timeless. It also runs against the grain of the whole flashy aesthetic that existed in the '80s."
We can thank Marc Jacobs for taking the ratty look out from Seattle basements and into the fashion world when, in 1992, he sent models down the runway in garments influenced by the likes of Hole's Courtney Love and Kurt Cobain of Nirvana. When big-name models like Kate Moss twirled around in beanies and loose-fitting nightgowns inspired by musicians who rarely spent more than $10 on a single staple, the heightened aesthetic forced the fashion elite to take notice. 
At the time of the show, experts called out fans of the show, offering withering critiques such as "The slaves to fashion who are sucker enough to fall for this grunge garbage deserve the slobby sartorial look they pay for." (*eyeroll*)
The brooding remains: The first generation of grunge was the opposite of slick or stylish; in fact, it was all about thrift. They had to go to their nearest Salvation Army and sift through grandma sweaters and curiously stained jeans to find the perfectly oversized cable-knit of their dreams. 
Now, all the youths have to do is type "sweater" into the Urban Outfitters or ASOS search function to find precisely what they're looking for. With this overhaul, grunge has gone undoubtedly commercial. In an Instagram and Tumblr age, we're more aware than ever of our personal style, and perhaps more ready to spend to nail the "look."
What has been left unchanged since 1992, though, is the attitude that comes with wearing clothes that don't look clean and pristine. For some, it's all about the I-don't-give-a-fuck attitude. For others, it's all about being in the #SadGirlsClub. Photos bearing the tag #grungeblog tend to be moody, dark and inevitably full of youth. 
Sure, black has replaced flannel, but grunge now, as it was then, is about a sense of not caring all that much about fashion, even though you secretly do. 
So bravo, youths. Keep reinventing as you go. And remember that in fashion, everything old is new again — so keep those limited edition Doc Martens clean and, unlike the Beanie Babies your parents hoarded, maybe you'll actually find fortune in a few years.