This Violinist Just Started an Instagram Account to Shame Stalkers and Creepers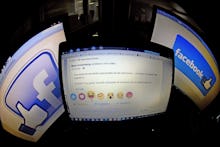 Mia Matsumiya is a violinist who likes to take photos of herself squishing into small spaces and of the great food she encounters, like anyone else on Instagram. She's also tired of men sending her vile, sexually explicit and sometimes violent messages on Instagram and Twitter, which is why she's putting them on blast. Matsumiya recently started an Instagram account that makes their rape threats and creepy messages available for the world to see:
The account is called "perv magnet," a nod to the nickname Matsumiya gave herself after being bombarded with rape threats from men who fetishize Asian women. Now she's inviting other women who've faced similar types of online harassment to join her. 
Matsumiya's call to action comes after years of online abuse. Some of the threats she's received are sexually explicit:
And then some are just flat-out creepy:
And still others are just hateful:
Matsumiya is not alone in experiencing gender- and race-based online harassment daily. According to a Pew Research Center survey released last year, 73% of all online users reported some sort of harassment, but young women between the ages of 18 and 24 are particularly likely to be stalked, sexually harassed or endure prolonged harassment online:
The problem has gotten so bad that even the United Nations is stepping in. According to a report released in September, the international watchdog frames online sexual harassment as a global problem that is just another vehicle for the violence that women and girls face in the physical world. 
That violence often turns physical quickly. In the United Kingdom, a notorious Twitter troll named Peter Nunn was jailed for 18 weeks after launching what authorities called a "campaign of hatred" against a politician, Stella Creasy. Earlier this year in the United States, Kevin Christopher Bollaert was sentenced to 18 years in for operating a revenge porn site that was a favorite of men who wanted to shame their female exes. Even when online sexual harassment stays online, it can lead to post-traumatic stress disorder or push women offline entirely, as the Washington Post detailed earlier this year. 
It's exactly that type of thing that Matsumiya is out to stop. "Pretty much most of my life now, I've encountered Asian fetishists, pedophiles, stalkers, racists and who knows how many unsolicited sexual comments," Matsumiya told the Huffington Post. "It had gotten to the point where someone would send the most scathing, racist, violent thing to me — like rape or death threats — and I would barely have a reaction."