T.I. Says He Can't Vote for Hillary Clinton for President Because She's a Woman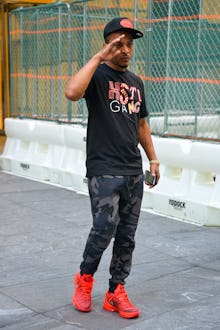 "Dead and Gone" rapper T.I. believes a "Loch Ness monster" will become president of the United States before a woman does — literally. 
He said as much in a recent interview with DJ Whoo Kidd after disclosing that he can't endorse Democratic presidential front-runner Hillary Clinton because she's a woman, and he thinks women are too emotional to make important decisions.
"Not to be sexist but, I can't vote for the leader of the free world to be a woman," he said, according to Vibe. "Just because every other position that exists, I think a woman could do well. But the president? It's kinda like, I just know that women make rash decisions emotionally — they make very permanent, cemented decisions — and then later, it's kind of like it didn't happen, or they didn't mean for it to happen."
He also shared his belief that the U.S. can benefit from GOP candidate Donald Trump's business acumen if he is "sincerely concerned about the economy of America."
T.I. also said he can't vote for Trump because of the outspoken candidate's "racist remarks" and "off-color statements," because "all that shit makes it impossible to be completely supportive of him." (T.I, a convicted felon, currently can't vote at all.)
"But just knowing what he's done for business for himself, if he intends to do that for America, it would be beneficial," he told DJ Whoo Kidd. "But I can't cash no vote for him."
Twitter users are calling the rapper's remarks sexist and suggesting he stay away from politics:
T.I. apologized for his remarks on Tuesday, admitting to their insensitive nature:
Watch the full interview below:
T.I.'s remarks come after music artist and producer Pharrell Williams endorsed Clinton on Ellen Monday morning. "We need someone who is going to take it seriously," he said. "She does have a serious tone, but I feel like when things get done, it's by someone who is being serious about it."