Charges Filed in Murder of Keisha Jenkins, Transgender Woman Killed in Philadelphia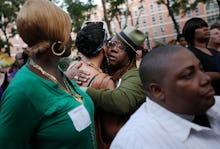 According to the Philadelphia Police Department, Keisha Jenkins died where Pedro Redding lived.
Police arrested 24-year-old Redding on Tuesday as a suspect in Jenkins's death. She was the 21st known transgender woman to be killed in the United States this year. Redding, who has been charged with murder, conspiracy and other offenses, according to the Philadelphia Inquirer, reportedly lives on the same block where Jenkins was killed on Oct. 6.  
Few details of Jenkins' murder have been made public but the Philadelphia Inquirer reports the 22-year-old was approached by a group of men after getting out of a vehicle. She was then assaulted and shot twice in the back. 
Her death has become yet another rallying cry for transgender women and their allies who want to bring attention to deadly violence that they have long faced. "In 2015, we have witnessed the highest homicide rate of transgender and gender-nonconforming people in the U.S. ever recorded by NCAVP," Chai Jindasurat, co-director of community organizing and public advocacy for the New York City Anti-Violence Project, said in a statement. "This is a state of emergency for our communities, and we cannot continue to witness this violence without action. We call on public officials, community leaders, and all LGBTQ community members to act now to end this crisis of violence against transgender people." 
The 21 murders of transgender women have been called an "epidemic" by activists but it's been decades in the making. According to experts who spoke to Mic, the dramatically rising numbers (more than 25 transgender women of color killed in less than two years) show that communities, advocates and police are finally taking gender identity seriously. 
"The media's getting much better at reporting and taking [gender identity] into account when violent crimes occur," Emily Waters, research and education coordinator at the AVP, told Mic. "We know this isn't a new problem, but it's still a huge problem."
Waters says that the systemic inequalities transgender women face put them at far greater risk of violence. Transgender workers are at greater risk of unemployment than the general population and are more likely to live in extreme poverty. 
Police are still looking for at least three other suspects related to Jenkins' death.