This Mysterious Substitute Teacher Is Going Viral for the Epic Way He Ended His Class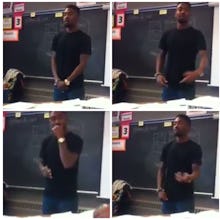 Everyone knows the drill when it comes to a substitute teacher: Watch a movie, pass notes and enjoy the freedom that comes with an absent teacher. But a new Tumblr video of one substitute shows that a teacher's presence, passion and talent can go a long way in a room filled with unfamiliar faces. 
The video, posted to Tumblr Oct. 9, is captioned: "When you ask your substitute to spit something, and he hits you with nothing but the realness. And he's from my home town." The name of that substitute, and the hometown that he's speaking about, are so far unclear, despite a request for comment from the Tumblr user. But what is clear is the power of the teacher at its center, who quiets a classroom of young adults with a spoken word performance presumably depicting his life. 
The video, which was apparently captured on a student's phone, begins, "Memories can be beautiful, memories can be ugly. Sometimes I ask memories, 'Why didn't you love me?"
The sub then goes into detail about a traumatic childhood that included a heroin-addicted, abusive parents and dealing with police raids. "I remember these memories just like, laying on the floor watching Hey, Arnold! and Rugrats," he says. "Six deep the police came and burst through the back."
At one point, the teacher captures his grief, saying, "It's hard to carry on when no one loves you. It's even harder when all your friends are floating above you."
He adds, "I was once kidnapped by the streets, I broke away and now I'm free." His message, and his delivery, are clearly resonant with the students he's speaking to. The room erupts in applause and cheers when he finishes. 
h/t Tumblr