2015 Democratic Debate Results: Full Recap and Highlights from CNN Debate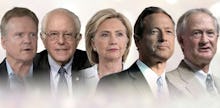 Tuesday night's CNN Democratic presidential primary debate was the first opportunity Democratic candidates had to face each other. It was also the United States' first chance to learn more about the five candidates, and their stance on the issues, in one place.
The event, held in Las Vegas, hosted the top five highest-polling candidates: former Maryland Gov. Martin O'Malley, former Rhode Island Gov. Lincoln Chafee, former Virginia Sen. Jim Webb, former Secretary of State Hillary Clinton and Vermont Sen. Bernie Sanders. 
One notable potential candidate (whom CNN even saved a podium for until the very last minute) missing from Tuesday night's event at the Wynn hotel and casino was Vice President Joe Biden. The vice president, who has been hinting at a potential 2016 run, didn't announce an official campaign within the network's time frame. However, the Hill reported that he would be watching the highly anticipated debate live from Washington D.C. 
Each candidate had an opportunity to introduce themselves. Sanders discussed his outspoken belief in the human effect on climate change, as well as America's unparalleled incarceration statistics compared to other developed nations. Clinton focused on the shrinking middle class and her plans to increase job opportunities, the minimum wage and reforms to the tax system.
CNN anchor and debate host Anderson Cooper immediately questioned Clinton's flip-flopping on several issues, from the Trans-Pacific Partnership deal to her stance on gay marriage. Clinton was quick to defend her "range of views," which she said are "rooted in my values and experiences." 
"I'm a progressive who knows how to get things done ... And I have proved that in every position I have had," she said.
Cooper then went onto questioning O'Malley about whether the United States can trust the former Maryland governor following Baltimore's incarceration of over 100,000 citizens in 2015. O'Malley said his administration "saved a lot of lives" during his term as mayor, thanks to a reduction in violent crime.
Sanders' discussed his D- rating in gun control voting from the National Rifle Association. Although the Vermont senator has a more moderate take on gun control policies than some of the other candidates, Sanders said he would do away with a gun show loophole that allows U.S. residents to purchase a gun without background checks, as well as tightening further security measures and background checks. 
When asked if Sanders isn't tough enough on gun control laws, Clinton noted Sanders' previous voting record for immunity for gun manufacturers from being held accountable for gun-related deaths.
After the candidates went back and forth on gun control, Cooper moved onto another crisis making headlines: relations with Russia, and the Syrian civil war that has lasted for over four years, forcing thousands of refugees to flee the region annually. Clinton advocated a stronger tone in dealing with "Russia's bullying," while Sanders said he would put together a coalition of Arab countries that would lead the effort, while the U.S took a backseat.
When asked under what conditions Sanders would use force in Syria, the senator said he does not support the U.S. engaging in unilateral action. O'Malley said a "no-fly zone" above Syria would be a mistake "we would deeply regret," elaborating that it could cause more violent issues throughout the region. "There's a lot of loose talk going on here," Clinton said, noting her "no-fly zone" policy is part of a bargaining chip in negotiating with Russia surrounding the Syrian conflict.
One of the night's most entertaining moments occurred when Clinton's ongoing email controversy came up. After explaining how she would be publicly testifying to Congress regarding her emails next week, Sanders said, "The American people are sick and tired of hearing about your damn emails!" Clinton laughed, later responding with a simple "no" when asked if she'd like to respond to O'Malley's statement on the topic.
Each candidate also identified what they believe to be the largest threat facing the nation:
Chafee: The "chaos" in the Middle East.
O'Malley: Climate change
Clinton: "Continued threat from spread of nuclear weapons."
Sanders: Climate change and leaving an inhabitable Earth for the next generation.
Webb: Largest long-term issue is the nation's rocky relations with China, while day-to-day is continued cyber warfare. Operationally, though, Webb said the biggest issue is solving the crisis in the Middle East.
Check here to watch the full debate and see the candidates' biggest talking points.