'Project Greenlight's' Effie Brown on the Perils of Standing Up to Hollywood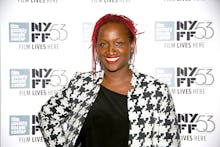 Effie Brown is still in Hollywood's hot seat for standing up to one of the industry's leading white men.
Brown is a longtime filmmaker and who earned national fame after Matt Damon whitesplained diversity in the industry on the season premiere of Project Greenlight. Even though her career can stand on its own, Brown recently revealed in an interview with IndieWire's Anne Thompson that the episode has put her at odds with Damon.
When asked why she argued with Damon in the first place, Brown said: "I had no choice really. I've been black and a woman all my life. I have worked in this business for 20 years. I'm 43. It was one of those things. Literally in that moment, was I going to risk public humiliation, bringing up this opinion, or deal with shame and excuses: 'You let that go by'? That's a big responsibility."
But, she says, "Word on the street is I'm not [Matt Damon's] favorite person right now."
That's not stopping her. The experience of doing the show, Brown told Thompson, was worth it. "I'm waiting it out until the end," she said in the IndieWire interview. "I'm happy with the experience. I'm super grateful that at the end of the day, no matter what, the show showed a beautiful, qualified, inclusive crew making a great movie. On the TV, you see people reflecting African-Americans making a movie, so that many people can join the experience. That was important to me, one of the reasons I did it. We accomplished that."
Brown's experience is an example of the very tight line that filmmakers of color must walk in an industry that's dominated by white men. According to a report released earlier this year by University of California, Los Angeles, women and people of color are greatly outnumbered in most aspects of filmmaking, from the creative side to the industry's executive leaders. Of all the major studios, every CEO or chair is male, as are 83% of executives at the senior management level. 
Women and people of color who are in the industry are seldom brought to the table to try to diversify it further. But slowly, Brown is using her own work to do exactly that. "I'm waiting to see what other opportunities come my way from this experience," she told IndieWire. "I'm learning the ways of Twitter."