One Provocative Magazine Cover Shows Just How Far Bill Cosby Has Fallen With Black America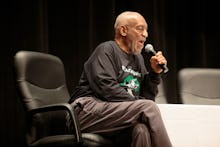 Bill Cosby is no stranger to the cover of Ebony magazine, one of black America's most storied publications. Over the decades, he's graced many covers, all celebrating his status as a symbol for powerful black fatherhood. 
But as dozens of rape allegations have surfaced, and tidbits of Cosby's leaked depositions have come to light exposing the lurid details of his alleged crimes, Cosby's once-pristine image has been shattered. Ebony hasn't run away from this reality. Instead, it confronted it head-on by putting a shattered image of The Cosby Show's Huxtable clan on the cover of its November issue, which focuses on family discord.
The cover story is written by reporter and editor Goldie Taylor and the controversial question of whether Cosby's beloved Huxtable character can survive his creator's sins. Though the full story won't be out until next month, the cover alone has stirred up much-needed discussion across social media on the importance of confronting Cosby's alleged crimes. 
Despite the whispered and documented sexual assault allegations that have dogged Cosby for years, he still represented one of the few meaningful representations of black fatherhood in popular culture. Black America's reckoning with those two realities is a painful, but necessary, step in the right direction. 
"This was not an easy decision," Ebony editor-in-chief Kierna Mayo wrote on Facebook about the decision to publish the cover, according to The Root. "But I believe with everything that our collective healing (from this and all traumas) is tied to baring truths, confronting selves and dismantling crutches. We aim to uplift. However, sometimes before you rise up, you break down."