This Israeli Restaurant Advocates Peace With a 50% Discount for Arab-Jewish Tables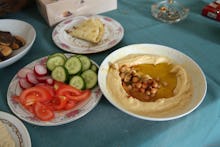 "In many countries, mealtime is treated as sacred," the Atlantic writes in an article on the primordial tradition of breaking bread together. "The dinner table can act as a unifier, a place of community," it adds.
It would seem Kobe Tzafrir, owner of the Humus Bar in Kfar Vitkin, Israel, agrees with this sentiment, given his new initiative to offer half-off hummus to commingled tables of Arab and Jewish diners. In the midst of renewed violence between Israelis and Palestinians, Tzafrir hopes to sow a message of peace.
"I want to do something good," Tzafrir told Mic. "I targeted Israel in the beginning, but now [the story] has spread outside of Israel. This is an opportunity to take advantage of the message."
The Humus Bar hubbub began on Oct. 13 with a post in Hebrew on the restaurant's Facebook page, advertising the 50% discount for transracial dinner parties. "With us we don't have Arabs!" it says, as translated by Al Jazeera. "But we also don't have Jews... With us we've got human beings! Real excellent Arab hummus! Excellent Jewish falafel!"
Extending an olive (branch): The conciliatory scheme has not been bad for business — quite the opposite. "From yesterday, people [have] start[ed] coming," Tzafrir told Mic. 
"Lots of tables take the discount and others come to support; they don't care about the discount," he added. Humus Bar's Facebook page currently boasts an image of some of these supporters.
The 33-year-old owner, born and raised in Israel, suggested Palestinians and Israelis are less hostile toward one another than the media would have most believe. 
"I think what people hear in the media is very important and I think all the situation in the media gets [blown] out of proportion," he said. "We [only] hear the extremists; they have the stage more than others."
The reality on the ground, Tzafrir argued, is quite different. "Many places in Israel don't get attention," he said. "Maybe Jerusalem, where there is fighting, but not other other places."
Currently, the restaurant only employs Israelis, but that may well change. "Yes, of course," Tzafrir said to the question of whether or not he was open to hiring Palestinians. "If I need [to hire] more work here, I don't care if they will be Jewish or Arab. I care if they are a human being."
Healing through hummus: "If there's anything that can bring together these peoples, it's hummus," Tzafrir told theTimes of Israel on Monday.
Tzafrir's intuition as to the socially beneficial nature of eating together is not wrong. Students who have meals with their parents are considerably less likely to play truant, according to a 2014 global study published by the Organization for Economic Cooperation and Development.
Furthermore, children who regularly eat with their families are approximately 150% more likely to report having positive relationships with their parents, which, in turn, reduces the likelihood they'll use drugs, alcohol or tobacco, according to a 2012 report by Columbia University's Center on Addiction and Substance Abuse.
Humus Bar hopes to replicate the advantages of bringing people together, just on a slightly larger scale. Tzafrir endeavors to diminish the differences in the region created by religion. "All the war in the world comes from religious situations," he said while discussing the problem of local identity politics. 
But, as for a solution, it's actually pretty simple, according to the young restauranteur: "When everybody respects everybody, we can live together. This is beautiful."