This Latino Artist Turned Your Favorite Sitcom Characters Into People of Color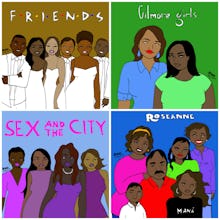 Artist Julio Salgado wasn't exactly fanboying when the Star Wars: Episode VII trailer hit Monday night (and received some limited backlash for being "anti-white" and casting John Boyega in a lead role). The 32-year-old Berkeley, California-based artist said he's actually obsessed with television and its diversity — or lack thereof.
"I've always been a TV junkie ever since I moved to the U.S.," he told Mic about immigrating from Mexico as a when he was 11 years old. "Watching sitcoms and television taught me how to speak English."
Though he saw parts of himself in the characters on his screen, Salgado had to search pretty hard. Roseanne depicted the struggles of a working-class American family trying to make ends meet. "I saw that in my family," he said of growing up in Southern California. Will & Grace showed the country one of its first openly gay lead characters, which meant a lot because he now identifies as queer. The Simpsons, one of the first American cartoons he fell in love with, later influenced the bright colors of the computer-drawn illustrations that make up his art portfolio. But the shows had one thing in common that Salgado couldn't relate to: They all featured white characters, and most were written by white writers. 
"There was still something missing, which is people who looked like me," he says. So when the calls to boycott Star Wars grew louder on Twitter and Gilmore Girls fans found a reason to rejoice an announced return, Salgado did what he does best: He created art that reimagined his favorite TV stars as people of color. Salgado told Mic he remembers thinking, "I'm gonna take some of my favorite shows, which I love, and [get] people who look like my friends and put them in there."
"It was kind of a little social commentary on what was happening when you have people of color on TV taking over white roles," he said. "It's really hilarious to me when people get really mad. [It's like] 'You have all TV to yourself. Why can't we have a little more color in there?'"
Television and film have long had trouble with racial inclusivity, both in front of and behind the camera. Even though recent years have seen the ascension of shows written by and starring people of color — Fresh Off the Boat, Jane the Virgin, Black-ish and Ugly Betty, for example — those are comparatively small steps. 
Staff writers have remained mostly white over the last 13 years studied by Writers Guild of America, West. Part of the groundbreaking success of shows like ABC's Empire, How to Get Away With Murder, and Scandal is that they've proven that diversity doesn't ensure a ratings disaster — in fact, it can be a recipe for chart-topping success.
"When people who aren't of color create a show and they have one character of color on their show, that character spends all their time talking about the world as 'I'm a black man blah, blah, blah,'" showrunner Shonda Rhimes told the New York Times magazine in 2013. "That's not how the world works. I'm a black woman every day, and I'm not confused about that. I'm not worried about that. I don't need to have a discussion with you about how I feel as a black woman, because I don't feel disempowered as a black woman."
Even the language of "diversity" often misses the mark, according to some in the industry. Rhimes, who has become one of the most powerful people in television, never mind that she's a black woman, uses a different word altogether. "I really hate the word 'diversity,' it suggests something... other," Rhimes said after receiving the Human Rights Campaign's Ally for Equality Award earlier this year. "As if it is something... special. Or rare. As if there is something unusual about telling stories involving women and people of color and LGBTQ characters on TV." She then added, "I have a different word: normalizing. I'm normalizing TV."
That normalization is what Salgado and many others saw in the Star Wars trailer, which features actors Lupita Nyong'o, who is Kenyan and Mexican, Boyega, who was born to parents from Nigeria, and Oscar Isaac, who is of Guatemalan and Cuban ancestry. "There is hope," Salgado said, pointing to Rhimes's success. "But the drawings that I made were very much about nostalgia and what if these shows had been different while I was growing up. It would have been so powerful."