6 Churches Around St. Louis Were Targeted for Arson in the Last 2 Weeks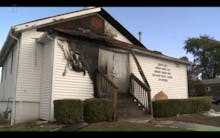 At least six churches in the St. Louis area, five of which are predominately black, have been targets of suspected arson, spurring federal investigators to get involved, according to Associated Press.
In what KTVI reports to be the most recent incident, New Life Missionary Baptist Church was attacked early Saturday morning. Pastor David Triggs told KTVI News he rushed to the church once he was notified. 
"I started praising God that no one was in the building," he told KTVI. 
Two churches in Jennings, Missouri, (Bethel Nondenominational Church and New Northside Missionary Baptist Church) and four churches in St. Louis (St. Augustine Catholic Church, New Testament Church of Christ, Ebenezer Lutheran Church and New Life Missionary Baptist Church) also experienced fires, Associated Press reports. 
Echoes of Ferguson: Capt. Garon Mosby of the St. Louis Fire Department told CBS News that police are seeking suspects and a motive, calling the attacks "arson" and possibly acts of hate, according to KTVI News. Investigators from the area's Fire, Regional Bomb and Arson team are working with the federal Bureau of Alcohol, Tobacco, Firearms and Explosives in the investigation.
St. Louis has garnered national attention when it comes to matters of race since the shooting death of Michael Brown, 18, in nearby Ferguson, Missouri, in 2014. The fatal shooting by police officer Darren Wilson sparked protests nationwide and became the focal point in a long-simmering discussion on police brutality directed at black Americans. Earlier this year, the Department of Justice released a scathing report on the pattern of racial biases that have created tension between the area's black residents and law enforcement. 
A history of violence: Shortly after Dylann Roof shot and killed nine people at a historically black church in Charleston, South Carolina, in June, multiple churches were targets of arson attacks across the South. Federal investigators said those fires were unrelated.
Those fires, however, and general attacks on black churches have a long, tragic history in the United States. According to the Huffington Post, the Charleston shooting was at least the 91st such attack on a historically black church in the United States since 1956. 
Perhaps one of the most notable attacks against a black church in history was the notorious 1963 bombing of the 16th Street Baptist Church in Birmingham, Alabama, that killed four black girls: Addie Mae Collins, Denise McNair, Carole Robertson and Cynthia Wesley. 
But even with the history and heightened tensions, New Life Missionary Baptist Church's pastor said he will forgive his church's attacker. 
"My job is to love (them)," he said to KMOV. "And I've forgiven this individual. We are going to tear down and rebuild."