These Powerful Messages Pushed President Obama on Criminal Justice Reform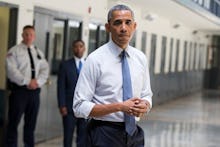 "Our justice system isn't as smart as it should be," President Barack Obama told a crowd at the NAACP's 106th annual convention earlier this year.
Even by the White House's own estimates, that sentiment is truer now than it's ever been. An estimated 2.2 million people are locked away in America's prisons and jails, a figure that's quadrupled since 1980, when 500,000 people were incarcerated. About 60% of those inmates are black or Latino.
The president sat down with the Marshall Project's Bill Keller, the former executive editor of the New York Times, for a live-streamed conversation with law enforcement on the issue on Thursday. "Much of our criminal justice system remains unfair," the president said in his weekly radio address, according to Yahoo! News. Obama was announcing a two-week effort to bring renewed attention to the issue he has said will be a focal point of his final year in office. "In recent years, more of our eyes have been opened to this truth. We can't close them anymore."
Obama has taken steps in recent years to address criminal justice reform. Over the summer, he became the first sitting president to visit a federal prison. Since announcing his wide-ranging initiative aimed at young men of color, called My Brother's Keeper, Obama has introduced a series of initiatives ranging from jobs programs to mentoring opportunities meant to help people who, according to the White House, "too often faces disproportionate challenges and obstacles to success." 
But advocates are pushing for more. From decriminalization of many of the drug offenses that swelled the prison population to pushing for prosecutorial reform and even for-profit prison abolition, they're fighting for a complete transformation of America's penal system. 
Like Obama, the country he serves has moved much further toward criminal justice reform, thanks in no small part to a cultural shift that's accompanied — or led, depending on whom you ask — the political shift away from the tough-on-crime attitudes of the 1980s and '90s. One of TV's most popular shows is Netflix's Emmy-winning series Orange Is the New Black, which tells the stories of women incarcerated in upstate New York. Michelle Alexander's award-winning book The New Jim Crow takes a deep look at how the expansion of jails and prisons after the civil rights movement has, in effect, created a whole new caste system, populated by bodies of color.
The president is an avid reader. These are some of the words that he's read and that, presumably, have helped shape his thinking on criminal justice. 
America's inner cities were built with the dreams of black migrants fleeing Southern segregation.
During summer 2011, Obama included Isabel Wilkerson's award-winning The Warmth of Other Suns: The Epic Story of America's Great Migration to his reading list. Here's one passage that stands out: 
"Over the decades, perhaps the wrong questions have been asked about the Great Migration. Perhaps it is not a question of whether the migrants brought good or ill to the cities they fled to or were pushed or pulled to their destinations, but a question of how they summoned the courage to leave in the first place or how they found the will to press beyond the forces against them and the faith in a country that had rejected them for so long. By their actions, they did not dream the American Dream, they willed it into being by a definition of their own choosing. They did not ask to be accepted but declared themselves the Americans that perhaps few others recognized but that they had always been deep within their hearts."
But American democracy isn't working for many of those black citizens.
Obama was spotted with a copy of Larry M. Bartels' Unequal Democracy: The Political Economy of the New Gilded Age back in 2011. In it, Bartel writes, "In a political system where nearly every adult may vote but where knowledge, wealth, social position, access to officials and other resources are unequally distributed, who actually governs?" 
And if there's any hope that it someday will, there's got to be an meaningful call to action, backed by policy.
Before he took office, Obama cited Taylor Branch's epic history of the civil rights movement as one of the books that shaped his thinking. In the first book of that trilogy, Parting the Waters, Branch writes: 
"Human nature was such that individuals could respond to reason, to the call of justice, and even to the love perfection of the religious spirit, but nations, corporations, labor unions and other large social groups would always be selfish." 
Thursday's live stream is just one part of the president's plans to bring attention to criminal justice reform. Behind the cameras, the Obama administration has also backed a bipartisan criminal justice reform bill that would reduce prison sentences for nonviolent drug offenders. But, as Keller wrote at the Marshall Project, the bill itself is just one comparatively small part of the reform that's needed. 
"The mood is changing in this country, and the laws have not caught up with that," Mary Price of Families Against Mandatory Minimums told the Marshall Project. "But the bipartisanship is a remarkable measure of how far we've come. Whatever happens with these bills, I think there is no turning back."