A Student Tried to Help Black Girl Who Was Manhandled in Class — She Was Also Arrested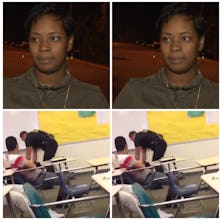 Niya Kenny, 18, was in her math class at Spring Valley High School in Columbia, South Carolina, when campus safety officer Ben Fields walked in and confronted one of her classmates, a yet-to-be named black girl. What happened next was captured in a video that's shocked the country.
The girl was reportedly using her cell phone in class and was asked to leave for an administrator's office. She refused to leave the classroom, which was when Fields was called in. Fields first tried to grab the girl by her arm. When she resisted, he placed her in a chokehold, lifted her body — still seated in the desk — off the ground and slammed her to the floor. 
That's when Kenny said she tried to speak up in the girl's defense, she told local news station WLTX.
"I know this girl don't got nobody and I couldn't believe this was happening," she said in the interview. "I had never seen nothing like that in my life, a man use that much force on a little girl ... I was like, 'No way, no way.' You can't do nothing like that to a little girl."
But as a result of vocalizing her dismay to help the girl, Kenny found herself in handcuffs.
"I was screaming 'What the f, what the f, is this really happening?' I was praying out loud for the girl," she told the station. "I just couldn't believe this was happening. I was just crying and he said, 'Since you have so much to say, you are coming too.' I just put my hands behind my back."
The girl at the center of the video has not been identified, but Fields has reportedly been placed on administrative leave and the incident is under investigation. As CNN reported early Tuesday, a former Spring Valley student who said he was unlawfully expelled in 2013 sued 10 school staff members, including Fields, who allegedly used excessive force against the student. That case is scheduled to go to trial in January.