South Carolina Video Is the Latest Example of Policing Black Girls in America's Schools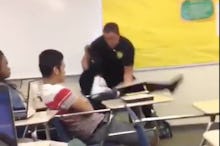 There are still many unanswered questions about what took place in a South Carolina classroom that left an unidentified black girl the subject of a viral video and the police officer who arrested her on administrative leave. The brutality displayed on the video, in which Deputy Ben Fields physically throws the girl to the ground and then drags her across the classroom, is outrageous — so much so that it's sparked widespread outrage both on and offline, with local parents groups calling for answers and some on Twitter calling for Fields's job. As of Tuesday afternoon, the U.S. Attorney's Office and Department of Justice announced it will investigate the matter. 
In classrooms across America, black girls are disproportionately on the receiving end of punitive, zero-tolerance policies. It's punishment that sees thousands of black girls each year pushed out of classrooms and, in many cases, locked behind bars, according to a report from the African American Policy Forum. The girl at the center of the video was reportedly confronted by Fields after refusing to leave class, according to Niya Kenny, an eyewitness who was later arrested for speaking up for the girl. 
Police public schools. Since the late 1990s, police officers have been a major force in American schools, particularly in communities of color. That's largely thanks to John J. DiIulio Jr., a political scientist whose research stoked irrational fears about so-called "superpredators." 
"Here is what we believe," DiIulio wrote with fellow political scientists William J. Bennett and John P. Walters in the 1996 book Body Count. "America is now home to thickening ranks of juvenile 'superpredator' — radically impulsive, brutally remorseless youngsters ... who murder, assault, rape, rob, burglarize, deal deadly drugs, join gun-toting gangs and create serious communal disorders." To further strip away their humanity, DiIulio and company wrote, "They do not fear the stigma of arrest, the pains of imprisonment or the pangs of conscience."
They estimated that crime would skyrocket in subsequent years, and the only way to get out in front of it was to control the people who were most likely to commit it. That included building more youth prisons, criminalizing more youth behavior and putting more police officers in schools to help administrators manage classrooms. 
But then something unexpected happened: Crime dropped. And while the fear of so-called youth "superpredators" is now largely seen as a myth, its legacy — those prisons, punishments and police — are still around. 
As Nell Bernstein details in her book Burning Down the House: The End of Juvenile Prison, the presence of these institutions grew amid outsized fears that young people deemed "superpredators" were growing more savage and ruthless by the year. "The superpredator myth not only served to justify already abysmal conditions in America's juvenile prisons," she wrote; the premise also resulted in more youth being criminalized. States amped up the methods used to punish them and led to states competing with each other to "'crack down' on kids by increasing penalties in juvenile court," which led to many of them transferring to the adult system.
Susan Ferriss reported for the Center for Public Integrity in 2013 that "the criminal justice system's involvement in student discipline has gotten entirely out of hand in some communities." School safety officers have been subject to lawsuits in several cities. In New York City, five students and their families brought a class action lawsuit against the New York Police Department, charging that officers "engage in a policy and practice of unlawfully seizing and arresting schoolchildren," the New York Times reported in 2010. The city of Oakland, California, was forced to pay half a million dollars as part of a settlement in a case in which an officer shot and killed a man outside of a school dance and was pressure by the school district to lie about it, according to Campus Safety Magazine.
Criminalizing black students. Students of color have been disproportionately affected by police officers' presence in schools. Ferriss' look at the Los Angeles Unified School District police in 2012 found that students of color under the age of 14 were issued citations at higher rates than other racial groups for seemingly minor infractions, like showing up to school a few minutes late.
Especially in the South. One University of Pennsylvania study examined the suspension rates of students in 132 school districts in 13 Southern states. South Carolina yielded grossly disproportionate treatment for black students; while black students make up 36% of those enrolled in the state, they make up 60% of those suspended from school (additional data from the Center for Public Integrity backs this up). Across 84 districts in Southern states, blacks students made up 100% of students suspended from school.
Gendered injustice. It's perhaps shocking, but surprising, that black girls like the ones who were arrested in South Carolina are subjected to such harsh punishment in schools. Black girls are suspended from school six times more often than white girls, according to the African American Policy Forum and Columbia Law School's Center for Intersectionality and Social Policy Studies.
That, according to experts, is a crisis, and it's one that's been ignored by the policy focus on black boys. "As the cases outlined above demonstrate, punitive disciplinary policies also negatively affect black girls and other girls of color," the report's researchers wrote. "Yet much of the existing research literature excludes girls from the analysis, leading many stakeholders to infer that girls of color are not also at risk."
As evidenced in South Carolina this week, that risk is a reality. And it's a huge.