Black Lives Matter Protesters Confront Hillary Clinton at a Campaign Event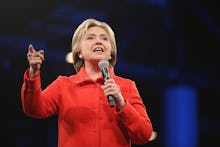 Black Lives Matter protestors want more from Hillary Clinton.
That was made clear when a group of activists confronted the Democratic presidential front-runner in a heated encounter in August and again on Friday, when a group of activists interrupted Clinton at a campaign stop at Clark Atlanta University in Georgia. Clinton was scheduled to reveal the first parts of her criminal justice agenda there, according to BuzzFeed's Darren Sands.
"I have been meeting with the activists of Black Lives Matter," Clinton said, according to Politico. "But I'm going to recognize some of the women of the civil rights movement."
Still, the scene in Atlanta was a fractured one. The crowd reportedly chanted for Clinton and civil rights veteran Rep. John Lewis (D-Ga.) to speak, in an effort to drown out the protestors, who, Politico reports, chanted for 15 minutes before being escorted from the rally. 
The group wants Clinton to stand more assertively in favor of criminal justice reform. While she has previously released ambitious plans to tackle gun violence and harsh sentencing, protestors want more. In September, the Associated Press reported, the group announced it would not endorse any political candidates for the presidency. "Sometimes you have to put a wrench in the gears to get people to listen," Alicia Garza, one of the group's co-founders, told a group at the seventh annual Black Women's Roundtable Policy Forum.
A video of the confrontation shows many black Clinton supporters cheering as the protestors, who moved arm-in-arm, were escorted out of the gymnasium.
h/t BuzzFeed