Twitter Celebrates the Historic Student Victory At the University of Missouri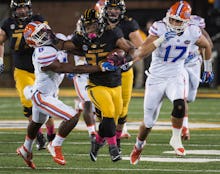 On Monday, University of Missouri System president Tim Wolfe resigned from his position in response to growing protests over his handling of racial incidents on campus. Pressure against Wolfe included a hunger strike by graduate student Jonathan Butler, promises by 30-plus Missouri football players to stop playing and threats of a faculty walkout.
Wolfe's resignation is a historic victory for Missouri students who believe their administrators did not do enough to combat institutional racism, as evidenced by a weak response to two incidents in which black students at the university were taunted with racial epithets. In one additional incident, a swastika was painted in feces on the wall of a dorm bathroom.
Wolfe drew additional criticism when his car bumped into a protester blocking his route through the university's homecoming parade, and he failed to immediately apologize. Organizers used the hashtag #ConcernedStudent1950, a reference to the year the system began admitting black students.
On Twitter, activists, commentators and allies weighed in on Wolfe's decision, praising the protesters and discussing how they capitalized on their momentum to push the administrator out. Some emphasized the football team's participation, saying it was key to achieving the win.
However, others quickly pointed out that without coordinated efforts by factions of the student body and faculty, as well as Butler's hunger strike, the football team would have never been involved at all.
Others pointed out that racial issues in the University of Missouri system are deeply rooted in both the system itself and tied to wider issues of racial inequity.
Finally, in probably the surest sign the activists had won, the haters lost their minds and warned of more to come.
Get the news everyone's talking about delivered straight to your inbox every morning by signing up for MicCheck Daily.