2015 Presidential Debate: Here's What We Know About Saturday Night's Event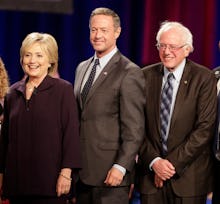 Chuck Burton/AP
The three Democratic presidential candidates will face off for the second time during the CBS Democratic presidential debate in a two-hour event starting at 9 p.m. Eastern Saturday.
Former Secretary of State Hillary Clinton, Vermont Sen. Bernie Sanders and former Maryland Gov. Martin O'Malley will debate key political issues live from Des Moines, Iowa, sponsored by CBS News. The debate will also be available via live stream on Mic.com/debate through an exclusive partnership. 
Here's what we know about the debate:
The participants: Clinton, Sanders and O'Malley. Former Virginia Sen. Jim Webb and former Rhode Island Gov. Lincoln Chafee dropped out of the race after the first debate. 
Clinton is the front-runner, polling at 52% among Democratic primary voters, according to a recent New York Times/CBS poll. Sanders follows at 33% favorability and O'Malley lags far behind at 5%.
The moderators: CBS' Face the Nation host John Dickerson will moderate. Dickerson has worked at CBS since 2009 and has also worked for publications like Slate and Time. He'll be joined by CBS News correspondent Nancy Cordes; Kevin Cooney, anchor for the local CBS affiliate in Des Moines; and Kathie Obradovich, political columnist for the Des Moines Register.
"You're basically like glass: People see the candidates through you," Dickerson told the Des Moines Register last week of his planned debate strategy. 
"The goal of the moderator is to illuminate the views of the candidates on the issues that matter the most to voters and you don't need to be on the side of the party to do that."
What to expect: According to the New York Times/CBS poll, Clinton is experiencing her widest lead against Sanders since May.
What's more, Clinton's email scandal may be exhausted after her marathon 11-hour trial Oct. 22. As Sanders pointed out during the first Democratic debate, "we're sick and tired of hearing about [her] damn emails." But Sanders may not be so nice to Clinton this time. 
Seeing that Sanders and O'Malley are lagging behind in the polls, both candidates may need to turn up the heat against Clinton on Saturday. 
Sanders' aides told Politico he is looking to balance a sense of authenticity that has made him attractive to supporters with his ability to offer strategic attacks on Clinton. 
The debate is particularly crucial given its location; the Iowa caucus is Feb. 1. "The Nevada debate was more of a national debate," Sanders' lead strategist, Tad Devine, told Politico on Thursday about the first debate in October. "I do expect [this one] to be a debate that has more focus on Iowa."
Live coverage of the debate will stream below:
Correction: Nov. 14, 2015