'Star Wars' Toys Prices, Best Deals and Where to Buy on Black Friday 2015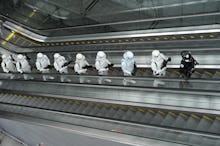 Deal seekers on Black Friday looking for Star Wars toys will have a number of options to choose from. Here are the best deals on Star Wars toys for the holiday season. 
Toys "R" Us: In a press release, Toys "R" Us promised discounts on a number of popular toys brands in addition to the line of Star Wars playthings. In-store deals will start at 5 p.m. on Thanksgiving and run until midnight. Toys "R" Us Loyalty members get extra discounts during Black Friday, according to the release. To check out the selection before Black Friday, here's a link to Toys "R" Us' Star Wars toys. 
Kohl's: Kohl's, which carries a variety of Star Wars toys, is offering shoppers a 50% discount off the price of all toys. Kohl's will open its doors at 6 p.m. local time on Thursday, though Black Friday hours of operation may vary by location.
Shoppers looking for a steal on the Star Wars: A New Hope Darth Vader Electronic Lightsaber will find it at Amazon. According to discount tracker the Black Friday, the toy will sell for $16 on Amazon, half its retail store price. Meanwhile, Target's got the best offer for shoppers looking to nab Star Wars-themed luggage for children. At Target, shoppers can find Star Wars Kids Carry-On Luggage for $25, marked down from $39.99
Yet according to Deal News, another discount tracking publication, shoppers won't find a plethora of Star Wars merchandise to choose from this year:
The absolute worst news we have for you is that deals on Star Wars toys — ahem, we mean "collectibles" — are going to be scarce. And, even if they do happen, they're probably going to sell out super fast; so fast that you might not even have time to figure out if that Captain Phasma action figure being offered is the best possible price or not.
Shoppers hunting for Star Wars gear should plan to hit the shops early.