Adele '25' Album Sales Projected to Break Some Major Records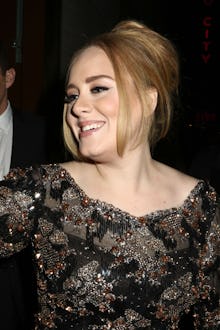 Adele keeping her newly released album 25 off streaming services could be a risky move if she weren't the current queen of the music industry. Instead, the singer-songwriter's decision could mean potentially record-breaking numbers of people getting her latest album the good old-fashioned way — by actually purchasing it. 
On Wednesday sources revealed to Billboard that Columbia Records is shipping 3.6 million copies of 25 in the United States, potentially setting a new record. A record company hasn't shipped that many new releases since 2000, when 4.2 million units of NSYNC's No Strings Attached shipped — and that was before digital purchases were ubiquitous. 
Sources also disclosed to Billboard that Sony Music predicts 25 will sell 1.5 million copies within the first week, not including an expected 900,000 copies in Apple digital sales. Apple received roughly 450,000 pre-orders, according to Billboard, while Amazon received over 100,000. If so, the album will likely sell roughly 2.5 million copies, which would break NSYNC's No Strings Attached record-breaking roughly 2.4 million, Wired reported.
Adele shared she was "overwhelmed" with her album's reception via Twitter: 
It won't come as a surprise if Adele succeeds in breaking the aforementioned records considering her first single in three years, "Hello" (the only single she officially dropped from 25 prior to the new album's release), became the first single to sell 1 million downloads in a week and the most-viewed music video on Vevo within 24 hours. Billboard also recently named Adele's last album, 21, the greatest album of all time — so it's not exactly a tall order for 25 to break some records of its own.
Correction: Nov. 20, 2015
A previous version of this article stated Billboard reported the shipping estimates on Thursday. Billboard reported the estimates on Wednesday, Nov. 18.