This Gay Ally Just Got a Highway Named After a Transgender Teen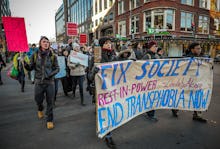 The death of Leelah Alcorn, a 17-year-old transgender girl who committed suicide last year just outside of Cincinnati, hit many people hard. Her death, and the heartfelt message she left just before it, made international news headlines as an example of what happens when schools, families and communities don't do enough to combat transphobia. Chris Fortin was one of the millions of people who were touched by the story, and this month he decided to take it upon himself to name a section of the highway on which Alcorn died in her honor. 
Fortin is a 33-year-old gay man who runs a small translation company from his home near Cincinnati. For him, Alcorn's story was deeply personal: They had both attended nearby Kings High School, albeit more than a decade apart. "When I was growing up I never had a [gay straight alliance] to go to, but it is nice to have support in that," Fortin told Mic. "When you have something like this happen where you grew up, it kinda just hit me."
Alcorn was 14 when she came out as transgender. According to her suicide note, her family reacted negatively to the revelation, first pulling her out of school and then forcing her into so-called conversion therapy, a widely debunked practice that promises to rid participants of same-sex attractions and, in Alcorn's case, gender dysphoria. Not surprisingly, it didn't work. In her suicide note, Alcorn wrote:
"My mom started taking me to a therapist, but would only take me to Christian therapists, (who were all very biased) so I never actually got the therapy I needed to cure me of my depression. I only got more Christians telling me that I was selfish and wrong, and that I should look to God for help."
In the early morning hours of Dec. 28, Alcorn walked onto Interstate 71, directly into oncoming traffic, and into the path of a semi truck, which killed her. Her suicide note, which she scheduled to go up later that morning, soon went viral. 
Alcorn became a prime example of the dangers of conversion therapy. In April, President Barack Obama came out against it and instead promoted "Leelah's Law," which would ban the practice nationwide. 
According to Fortin, shortly after Alcorn's death, a small, handmade memorial popped up along the highway on which she died. But it quickly started to fade away — and that's when he decided to create something permanent.
"I wanted something to remember her that was going to be state-sanctioned and legal," Fortin told Mic, noting it's illegal to post handmade signs along the highway. "I said this needs to be official, this needs to be a project where we remember somebody who lost their life, but we also need to educate the public on transgender issues."
Fortin said the highway was the perfect place to memorialize Alcorn. The process was relatively simple, he said. He filed paperwork to adopt the stretch of highway where she died, a process that was free of charge as long as he committed to cleaning it.  
"I felt like as a society we move on too quickly. We have so many options of news; we're inundated with dings, texts, [and] we move on and forget," said Forton, who also started a Facebook page about the highway dedication. "I didn't want that to happen."
Editor's Note: For information about suicide prevention or to speak with someone confidentially, contact the National Suicide Prevention Lifeline at 1 (800) 273-8255 or the Crisis Text Line at 741-741. Both provide free, anonymous support 24 hours a day, seven days a week.