One Map Shows What America Would Look Like if We Were Grateful for Indigenous Culture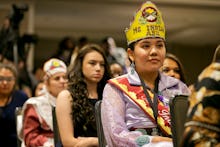 Aaron Carapella, 36, is a self-taught Native historian and cartographer with a degree in business and years of activism under his belt. During the time he spent with the American Indian Movement, he remembers standing arm in arm with other protesters to block government officials and corporations from encroaching onto Native land. But it's his mapmaking he feels that's had the biggest impact on forcing America to reckon with its treatment of Native people.
"We still have to educate the general public about our history," Carapella, who is part Cherokee and has been researching for this project for nearly 20 years, told Mic. "If we don't, we'll still be forced to teach non-Natives about our history instead of them growing up in it. What better people to respect than the native people of this land?"
Carapella has begun mapping indigenous tribes across the Americas. The maps include the original names of each tribe and its territory. Last year, his map of the United States was profiled by NPR.
Now, just in time for Thanksgiving, Carapella has released an updated series of maps that include South America and North America in its entirety. (See a larger version here.)
"I think it is important to remember that there was a short period of time in which the colonists chose to get along with the indigenous peoples of this land — perhaps mostly out of necessity of survival, but nonetheless there was a mutual respect in the very beginning," Carapella said. 
"It is also good to remember that there are still dozens of Nations who met the Pilgrims who today are still struggling for federal recognition and for respect of their homeland, village sites, sacred sites and cultures."
Carapella said his maps have been included in college textbooks, museums and regional maps for the National Parks Service. "I have the focus to complete these maps because this information is something that's really lacking," he said.