Dallas Mayor Mike Rawlings Says He's More Afraid of White Terrorists Than Syrian Refugees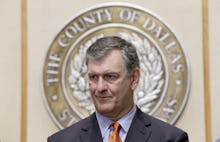 Who's afraid of Syrian refugees? Not the mayor of Dallas. 
On Saturday, Mayor Mike Rawlings told MSNBC that the United States should welcome refugees from the civil-war-ravaged country. He also acknowledged there are bigger homegrown threats to be worried about.
"I am more fearful of large gatherings of white men that come into schools, theaters and shoot people up, but we don't isolate young white men on this issue," Rawlings said in response to questions about the possibility of terrorists slipping into the country through refugee programs. "I was out in the streets last night in Dallas looking at a great part of town that has had some recent robberies. Those are the things that mayors are concerned about." 
Source: MSNBC
Rawlings said that he didn't think concerns about security should interfere with the way entire foreign communities are perceived in the U.S.
"This is a big issue, and we as a nation must step up and make sure we are secure — but we must not do things that change the soul of who are are," Rawlings said. "We've got to use the words carefully to show [Muslim Syrian refugees] that we care about them. ISIS is no more Islamic than the Nazi senior staff was Christian."
The mayor declared faith in the rigorous screening process for refugees entering the U.S., which includes thorough security checks, in-person interviews and cultural orientation. The application process can take as long as 18 months, and refugees from Syria are subject to an extra layer of specialized screening.
The Migration Policy Institute reports that refugees have virtually no recent history of planning or executing terrorist attacks.
"The United States has resettled 784,000 refugees since September 11, 2001," a report by the institute said. "In those 14 years, exactly three resettled refugees have been arrested for planning terrorist activities — and it is worth noting two were not planning an attack in the United States and the plans of the third were barely credible."
Rawlings' fears about mass shootings by white men is based on the fact that a majority of the hundreds of mass shootings in recent years are carried out by white men.
The mayor's point was tragically illustrated overnight by the shooting of five protesters at a Black Lives Matter rally in Minneapolis. Police are searching for three white males who they suspect opened fire at the demonstration, which was held to protest the fatal shooting of 24-year-old Jamar Clark earlier in November. 
Jamil Smith, a senior editor at the New Republic, succinctly put it best: