Pope Francis to Release Album 'Wake Up!': Complete Track List, How to Stream and Download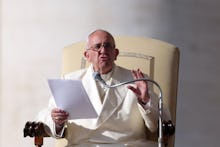 Pope Francis, the highest authority of the Catholic church, promised he'd drop a Christian-Rock album in September, and has since faithfully delivered on that vow. The album, titled Pope Francis: Wake Up!, has been available for streaming exclusively on Deezer.com since last week ahead of its worldwide release Friday. 
However, the service is currently unavailable in the United States. Pope Francis: Wake Up! will be available for purchase via iTunes beginning Nov. 27.
"For many years, I've been the producer and the artistic director of albums by the pope," musical composer and producer Don Giulio Neroni, who has worked with multiple popes to produce their own albums, told Rolling Stone in September. "As in the past, for this album too, I tried to be strongly faithful to the pastoral and personality of Pope Francis: the pope of dialogue, open doors, hospitality. For this reason, the voice of Pope Francis in 'Wake Up!' dialogues music. And contemporary music dialogues with the Christian tradition of sacred hymns."
The album uses clips of speeches the Pope has made from 2013 through 2015, primarily focusing on global issues like the environment, poverty and world health, along with rock-and-roll guitar chords and electronic synths. 
Here is the 11-song track list to Pope Francis: Wake Up! via iTunes:
1. "Annuntio Vobis Gaudium Magnum"
2. "Salve Regina"
3. "Cuidar el Planeta"
4. "¿Por Qué Sufren los Niños?"
5. "Non lasciatevi rubare la speranza!"
6. "La Iglesia No Puede Ser una ONG!"
7. "Wake Up! Go! Go! Forward!"
8. "La Fe Es Entera, No Se Licua!"
9. "Pace! Fratelli!"
10. "Santa famiglia di Nazareth"
11. "Fazei o Que Ele Vos Disser!"
The BBC reported Francis speaks throughout the album in four languages: Italian, Spanish, English and Portuguese. The song titles, which translate to meanings like "Why do children suffer?" and "Protect the planet" focus on causes the pope is passionate about and has been traveling the world to discuss with fellow religious and political leaders.