Newly Released Video Shows Chicago Police Shooting of 17-Year-Old Laquan McDonald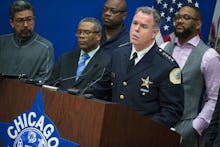 On Tuesday night, graphic video of the Chicago police shooting of Laquan McDonald was made public. Outraged observers are already calling it yet another brutal incidence of police violence. 
Chicago Police Department Officer Jason Van Dyke has been on paid administrative leave since the shooting, and earlier on Tuesday he was indicted on a charge of first-degree murder.
In the police dashcam video, dated Oct. 20, 2014, McDonald is seen walking down the middle of a street with officers both behind and beside him. 
Shortly after, bullets ring out. An autopsy report later revealed that McDonald was shot 16 times. 
Cook County State's Attorney Anita Alvarez explained the indictment at a news conference on Tuesday, saying, "To watch a 17-year-old young man die in such a violent manner is deeply disturbing and I have absolutely no doubt that this video will tear at the hearts of all Chicagoans."
As Mic reported earlier on Tuesday, the city of Chicago has already reached a $5 million settlement with McDonald's family. "Police officers are entrusted to uphold the law, and to provide safety to our residents," Chicago Mayor Rahm Emanuel said in a statement last week, according to the New York Times. "In this case, unfortunately, it appears an officer violated that trust at every level."
Last week, a Cook County judge ordered the footage be released publicly no later than Wednesday. Law enforcement in the city opposed the video's release, fearing that it would spark outrage.  Van Dyke is the first Chicago police officer to be charged with first-degree murder for an on-duty incident in 35 years, according to the Chicago Tribune. 
Already, protesters have gathered in Chicago.
Mic's Max Plenke reported demonstrators were marching down Chicago's Michigan Ave., one of the city's major thoroughfares, chanting "we shut shit down."
Other social media posts from the scene showed demonstrators confronted with a heavy police presence.
This is a breaking news story and will be updated as more information becomes available.