Colorado Spring Shooter In Police Custody, Authorities Confirm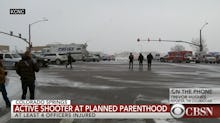 Update Nov. 27 8:38p.m ET
Two people, including one University of Colorado police officer, have died. 
Update Nov. 27 7:03p.m ET
Multiple outlets are reporting that the shooter is now in police custody. 
Original Story:
Local authorities have reported an active shooter at the Planned Parenthood in Colorado Springs, Colorado. Injuries have been reported, according to the Raycom News Network, and police have requested that media stay clear as the area is currently unsafe. 
At a press conference, Lt. Catherine Buckley said that the gunman is still in the Planned Parenthood facility, and that officials have been working to get as many people out of the building as possible. Buckley said that they have not made contact with the shooter "by voice," but were made aware of certain "items" of note he brought with him that will warrant extra precautions.
In a earlier press conference, Lt. Buckley said that the shooter had a "long gun" and that officials are "unsure what the connection is to Planned Parenthood."
Numbers have been changing as more information comes out but police are now reporting that there are at least nine victims in the shooting. Buckley has not spoken to the condition of any of the injured officers. 
As of 4:18 p.m. Eastern, the Colorado Springs police tweeted that the shooter was still active. 
Police commander Kirk Wilson told the local CBS affiliate on camera "we do think we have him contained, we know where he's at" as of 2:53pm. 
A witness who works in the vicinity of the active shooting told CNN she saw five police officers with their guns drawn and three SWAT vehicles on the scene. 
The Colorado Springs Police Department tweeted reports of an active shooter at 1:57 p.m. Eastern, urging media to stay away from the danger. 
There are unconfirmed reports that a police officer has been shot. 
At approximately 2:30 p.m. Eastern, local KXRM reporter Kody Fisher tweeted picture of a mobile command center from the scene.
The shooting is occurring behind this building, Fisher reported.
Mic will continue to update as this is a breaking news story.