Queen Britney Spears Dancing to Queen Adele Is the Instagram Post You Need to See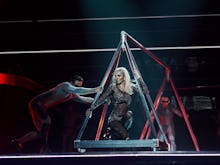 Every generation must have its queen. Now, 15 years after Britney Spears' 2000 album Oops! ... I Did It Again topped the Billboard charts and made history by selling 1.3 million copies, Queen Britney Spears has formally acknowledged the reign of Queen Adele. 
Late on Saturday, just days after the news that Adele shattered the record for all-time albums sold in one week (and with it, Spears' record for most albums sold by a woman in one week), Spears posted a video of her dancing to Adele's record-breaking single "Hello." 
In the post, filtered to look like a vintage film, Spears does a fouetté turn through the song's soaring chorus and finishes the dance in fourth position, legs crossed. 
Spears wrote a message to accompany the post: 
"I could dance to this song a MILLION times...love you @adele!"
Spears spent the remainder of Sunday posting inspirational messages to her fans, though none as inspiring as some of Spears' best choreography in years. 
Understandably, fans of Spears, Adele and ballet are freaking out. 
This is not Spears' first time embracing other artists. In August, Spears called fellow chart-topper Taylor Swift "adorable," and told Billboard that her sons love Skrillex.