What the Freddie Gray Jury Says About America's Criminal Justice System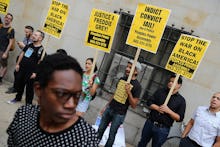 We're a long way from a verdict in the trial of William G. Porter, the Baltimore police officer who's on trial for the death of Freddie Gray. But we now know more about the 12 men and women who will decide his fate: Eight of the 12 jurors are black.
Porter faces charges of involuntary manslaughter, second-degree assault, misconduct in office and reckless endangerment. Porter is the first of six officers to be tried in Gray's death, which has become a rallying cry against police brutality. Gray, 25, died in police custody in April after his spinal cord was partially severed. Outrage over his death led to a weeklong confrontation between many young, black residents and the city's police force; the city of Baltimore has spent more than $5 million over four years to settle excessive force claims.
Gray's death and Porter's trial highlight the importance of jury selection in America's judicial system. Researchers have found that interracial juries commit fewer factual errors, deliberate for longer periods of time and consider a wide swath of perspectives, according to the New York Times. While Porter's trial is a unique example in which African-Americans make up the majority of the selected jury, racial discrimination in jury trials is still a big problem. 
Nazgol Ghandnoosh, a research analyst at the Sentencing Project, says there are many unique qualities to what's happening in Baltimore. "What's surprising in this case is the defensive efforts to move the case outside of the city, which would likely have fewer African-Americans in the jury pool and more white jurors," Ghandnoosh told Mic. "That dynamic reverses what you usually see in jury cases."
But here's what not unique about it: Porter, a black man, is on trial for the death of Gray, another black man. Most homicides are intra-racial, meaning you're more likely to be killed by someone of your own race than a person outside of it. But black victims don't usually elicit the harshest penalties, according to Ghandnoosh. "There's a concern that there's not as much justice for African-American victims, as measured by how seriously the case is investigated, the outcome [of it], level of charging [and] level of conviction." An analysis of Louisiana death penalty cases found "the likelihood of being executed for killing a black male is 48 times lower than for the killing of a white woman."
Bryan Stevenson, founder of the legal advocacy organization Equal Justice Initiative and author of the 2014 book Just Mercy, put it this way back in 2010: "The underrepresentation and exclusion of people of color from juries has seriously undermined the credibility and reliability of the criminal justice system, and there is an urgent need to end this practice," Stevenson said. "While courts sometimes have attempted to remedy the problem of discriminatory jury selection, in too many cases today we continue to see indifference to racial bias."
EJI has numbers to back up its claim. In a report released in August 2010, EJI studied jury selection in eight Southern states: Alabama, Arkansas, Florida, Georgia, Louisiana, Mississippi, South Carolina and Tennessee. Researchers found cases of hundreds of people of color who'd been called to serve on juries and then illegally excluded from doing so. In an extreme case, in one Alabama county, 80% of African-Americans who had been qualified to serve on juries were dismissed by prosecutors in death penalty cases. In Jefferson Parish, Louisiana, the exclusion of black jurors was so extreme that 80% of criminal trials didn't have black jurors. That's despite a long-standing Civil Rights Act and Supreme Court decision that's supposed to outlaw the practice of dismissing jurors because of their race.
Mary Turck, an adjunct faculty member at Macalester College in Minnesota, wrote an op-ed for Al-Jazeera calling for more racially diverse juries. "Raising awareness about racial bias by police, in jury selection and in other institutions of government is key to changing standards and public opinion on racism," she wrote.
At least in Baltimore, the court system seems to be listening.