Graphic Video Reignites Debate Over Body Cameras for San Francisco Cops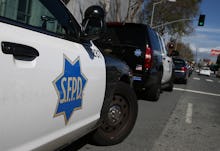 Like nearly every major city in America, San Francisco, California, is grappling with its own history of police violence. Wednesday marked a new chapter in that history, as bystander video emerged of a fatal encounter between several police officers and a knife-wielding black man in the city's predominantly African-American Bayview District. The shooting happened on the same day that the San Francisco Police Commission approved a draft policy on police body cameras.
The video captures the final moments of a stand-off in which in the man, who police say was holding a knife, was confronted by several police officers.
Editor's note: This video contains disturbing footage. View with discretion.
In a press release following the incident, the San Francisco Police Department said the man, whose identity has not been released, was a suspect in a nearby stabbing. "As the suspect had already demonstrated that he was a danger to others by having stabbed an earlier victim," the press release read, "the officers could not allow him room to harm anyone else."
The shooting comes several months after four San Francisco police officers were not charged in the shooting death of Alex Nieto. In that incident, officers fired 59 shots at the 28-year-old Nieto, who they claimed was acting erratically and had a gun. Friends later described him as a Buddhist who carried a stun gun with him as part of his job as a security guard at a nightclub. In November, a March 2016 date was set for a civil trial against the officers involved in the shooting. "A full-blown trial in court, in front of jurors, means that there is enough evidence that Alex's case could not be dismissed as a matter of law," Benjamin Bac Sierra, a Nieto family friend, told Mission Local. 
Nieto's death became a turning point for activists in the city calling for better police accountability and oversight. Just hours after Wednesday's shooting in the Bayview District, the city's police commission moved to draft guidelines on how and when police officers are to use body-worn cameras. That policy now moves on to the city's police officers' union, though residents are understandably weary. In September, two videos emerged of police officers laughing about shootings and discussing what could be recorded on body cameras. 
Earlier this year, a series of racist and homophobic texts exchanged by at least five SFPD officers were made public as part of a corruption investigation of a former sergeant. "All niggers must fucking hang," read one of the messages. 
"We pride ourselves on being a progressive city, yet we have active officers who are engaging in not only racist banter, but they were talking about killing people, referring to an African-American as a 'savage,'" Jeff Adachi, San Francisco's public defender, told the Los Angeles Times. "A person does not become a racist overnight. These were officers who in some cases had over a decade of service. We need to look at all of them."