7 "Insane" Demands American College Students Have Fought For and Won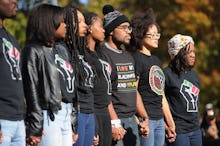 While college campuses across America erupt in protests, the rest of the country is asking what it is exactly that students are fighting for. 
In some cases, the goal is clear: Students at the University of Missouri were unhappy with their system president's inaction after a series of racially motivated incidents on campus, so they wanted him gone. They won. Another group of students at the University of Cincinnati demanded that their school fire the police officers who covered up a colleague's killing of an off-campus black man named Samuel DuBose over the summer. Students of color at Georgetown University demanded that their school rename two buildings that were dedicated to men who'd owned slaves; they got their wish. And Princeton University is currently mired in a debate over renaming its public policy school, dedicated to President Woodrow Wilson, whose troubling treatment of black Americans has recently come under new scrutiny.
In other cases, like at the University of Missouri before its president's resignation, the students' goals seem less tangible. There's been a media backlash that has blasted students' demands that college officials reckon with institutional white supremacy and the individual microaggressions students of color deal with daily at predominantly white institutions.
"Campus administrators are trying to serve all the students at the public university, and that's more difficult in an era of declining state support and skyrocketing student debt," Justin Green wrote for the Independent Journal. "And with campus activists generalizing the actions of a few bad individuals to indict an entire university system, the task of serving the public good becomes even harder."
But as American colleges enter this new phase of long-brewing culture wars, the question of what does serve the public good is up for debate. Here's a list of demands previous generations of college students have made, to show that today's students aren't as "disturbing" as some media outlets makes them out to be:
1834: Seminary students try to take down the United States economy.
Lane Theological Seminary played a surprisingly influential role in the lead-up to America's Civil War. Located in Cincinnati and opened in 1829, the seminary became a home for spirited debaters. One of those students was Theodore Dwight Weld, a preacher who enrolled in 1834. Weld began debating other students on the hot topic of the day: slavery, the peculiar institution that had been the bedrock of American capitalism. Importantly, the school's debaters also included a man named James Bradley, a black man who'd been born into slavery and argued vehemently against its existence — and changed the hearts and minds of several of the school's southern students along the way.
Weld would go on to become a lecturer for the American Anti-Slavery Society and worked as a researcher for John Quincy Adams, who was trying to overturn a gag rule on anti-slavery petitions.
1960: Four students try to drink coffee in the middle of the day.
On Feb. 1, 1960, four North Carolina Agricultural and Technical College students decided to take a trip to their local Woolworths. Their names were Joseph McNeil, Franklin McCain, Ezell Blain Jr. and David Richmond. All four knew that segregation was the law of the land, and while they could purchase items from Woolworths, they wouldn't be served at the whites-only lunch counter. That didn't stop them. In fact, that's exactly what they wanted. Once they sat down, ordered coffee and were refused service, they stayed until the store closed. They kept coming back and started a sit-in movement that swept the country and eventually forced desegregation across cities in the South.
1964: Students decide that they don't want to go to war, after all.
As America became more enmeshed in its war with Vietnam, college students across the country spoke out. They protested against the military draft, the economic impulses that led the country to war in the first place and they demanded their right to go public with their outrage. University of California, Berkeley, was the epicenter of this political activity, which was later named the Free Speech Movement. It was led almost entirely by campus activists, including Mario Savio, Bettina Aptheker and Jack Weinberg. In 1965, after the students' protests, the university established rules for political activity on campus and designated an area outside of Sproul Hall as an area for open discussion. 
1968: Students who aren't white determine that they should maybe not just learn about white people.
On Nov. 6, 1968, two student-led groups led a walkout at San Francisco State University. The groups were the Black Student Union and Third World Liberation Front, a coalition of many students of color. Atop their list of demands was a change to the college's curriculum that included serious coursework on the histories and cultures of communities of color. After five months of clashes with police, public meetings and a nearly shuttered campus, the strike ended. As a result, the country's first and only College of Ethnic Studies was born in 1969.
Other colleges followed suit, and by 1978 a total of 439 colleges offered more than 8,000 ethnic studies courses. In 2008, then-San Francisco Mayor Gavin Newsom declared Oct. 30 "SF State Student Strike Day."
1969: New York City students decide that a publicly funded university should probably look like the public it serves.
Students weren't just talking about what they were learning on college campuses, they were also concerned with who got to be on those campuses in the first place. The City University of New York university system was known colloquially as the "proletarian Harvard" because of its relative affordability, but applicants needed a B average to gain admission. Student of color enrollment was dismal.
In February 1969, black and Puerto Rican students demanded that the school's student body match that of the city's high schools. In April, activists began a string of campus shutdowns. All of that agitation worked: CUNY adopted an "open admissions" policy that greatly expanded the student body and its share of people of color.
Here's how the policy worked: High school students who graduated with an 80 average in academic courses or ranked in the top 50% of their graduating class were guaranteed admission to one CUNY campus. In 1969, before the policy went into effect, 20,000 freshman students enrolled across its campuses. The next year, 35,000 students matriculated, and the proportion of black and Latino students tripled. 
1977: One college decides that it's not a great look to have its money tied up in a decades-long, dictatorial political regime that disenfranchises the majority of its residents.
In April 1977, Hampshire College, a liberal arts school in Amherst, Massachusetts, announced that its board of trustees made a historic decision to divest from its dealing with South African companies or businesses who earned considerable capital in the country.
The move was spurred by student activists, who demanded that their college withdraw its ties in order to put pressure on the South African government's longtime use of apartheid to legally and socially oppress black South Africans. The student group at the forefront of that activism was the Hampshire College Committee for the Liberation of Southern Africa. The students staged protests and occupied campus buildings in order to get their point across.
But that victory in 1977 resonated at campuses nationwide, as a dozens of other schools followed its lead. By 1988, 155 educational institutions either partially or fully divested from South Africa. That financial incentive complemented on-the-ground organizing by black South Africans: In 1994, apartheid fell as the African National Congress came to power and longtime political prisoner Nelson Mandela was elected president. 
1997: Students school their universities on sweatshop labor. 
In the late 1990s, the $4 billion a year business of college apparel came to light after students began to make noise about it. That effort was largely led by a United Students Against Sweatshops, which was organized in 1997 by undergraduates from several campuses. The students highlighted the people who made their school's apparel for meager wages and under abusive conditions in factories contracted by companies like Jansport, North Face and Vans.
In 1999, students at the University of Arizona staged sit-ins totaling 225 hours. The activism came to a head that year when tens of thousands of people took the streets in Seattle to protest the World Trade Organization's negotiation of new trade agreements. That activism resonated years later.
On Dec. 16, 2011, the Department of Justice issued a letter stating that universities should only enter the apparel business with those that paid workers a living wage and provided safe working conditions.