How Gentrification Shadows Protests Over San Francisco's Latest Police Shooting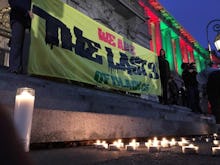 Years before he died, Gwendolyn Woods looked into a camera held by her son , Mario — then a teenager — and told him what was killing their community. "We talk about all the killings we do amongst one another, and we don't talk about the silent killers in this area," she said of her Bayview-Hunter's Point neighborhood in San Francisco. "Here's a major silent killer."
She pointed behind her to a fenced off lot that was home to one of two power plants in the neighborhood. It was dusk and street lights shined in the background as she described the hazardous effects of chemical dumping in the area. "I can't tell you how many friends of mine that's lived in this community for years has [sic] cancer," she told Mario, who was then producing a short documentary about his neighborhood with a community group called the Conscious Youth Media Crew, in a video that was uploaded to YouTube in 2010. "Mothers have passed from cancer. My mother passed from cancer."
Mario didn't die of cancer, and his death was not silent. On Dec. 2, the 26-year-old died in a hail of gunfire, surrounded by at least a dozen police officers responding to reports of a nearby stabbing. The incident, which happened in broad daylight in the middle of the afternoon, was caught on camera by several passersby who then shared it on social media. Those videos have in turn sparked outrage from residents of color, hundreds of whom gathered on Wednesday for a vigil in front of city hall and suggested that such police overreach is a direct result of rapid gentrification in the city.
"We know that the police department serves the interests of the elite," Juana Teresa Tello, an organizer with Causa Justa Just Cause, a Bay Area community group, told Mic. "Mario Woods was killed less than a mile away from proposed development that's going to [happen] at the Candlestick Park area that will include a shopping center and luxury housing."
A dwindling population. San Francisco currently leads the nation in income inequality. A repeated rallying cry since Woods' death is that he represents the city's "last 3%" of black residents. Like many major cities, San Francisco's black population has dwindled in recent decades. But that decline has been especially pronounced in the City by the Bay: Current estimates place black residents at roughly 5.7% of the population, and that count was in 2014 — long before rents in the city skyrocketed even further. Despite their low numbers, black residents make up more than 50% of the city's jail population. This year, the San Francisco Chronicle reported that incomes across the city rose — except for in black communities. 
"There's a lot of overlap between what happened in his life and what a lot of other black people experience here in San Francisco," Tello said. Several news accounts have recounted Woods' struggles: He spent several years in prison and was on one of the city's controversial gang injunctions, a list of suspected gang members who are prohibited from entering their own neighborhoods but that opponents have widely criticized as racist. The problem of displacement was particularly acute in Woods' life, as his mother had recently lost her home in the Bayview district. "Mario Woods and his family are a direct reflection of a lot of systemic problems that impact working class families, specifically black families, in San Francisco," Tello said.
San Francisco, broken down by race:
The map below uses 2012 Census data to demonstrate the city's racial makeup. Whites are shown with blue dots, blacks with green, Asians with red, Latinos in orange and other races are shown in brown dots. 
For the longtime residents who are still there, the gentrification that they experience is more than just the physical act of being displaced from their homes. "It's a lot of things," Larry Solomon, a lecturer in ethnic studies at San Francisco State University, told Mic. "I think the changing culture in [these] neighborhoods is a reflection of a lot of other criminal justice policies — stop and frisk, gang injunctions — that have criminalized entire generations of people."
That's frightening context for the city's leaders. In a press release issued the day after Woods' death, Bayview supervisor Malia Cohen wrote to "encourage people to honor the life of Mr. Mario Woods through peaceful and nonviolent gatherings in remembrance of his life."
For their part, activists say their demands are clear. Disappointed with what they perceive to be slow action in similar cases, they want a full federal investigation into Woods' death.
As Raheema Colloway, an activist affiliated with Black Lives Matter Bay Area, told Mic: "With the increase of the [city's] population, the black community is at the forefront of the abuse with the police terror we experience on the daily."