Serena Williams Slays on the 'Sports Illustrated' Cover for Sportsperson of the Year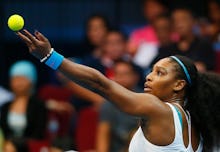 It's been a big year for Serena Williams, and to top it off, she just won one of sports media's most heralded honors: Sports Illustrated Sportsperson of the Year. 
Williams beat out heavy competition, including the NBA's Steph Curry and soccer's Lionel Messi. But in typical Serena fashion, it's the magazine's cover that's drawing the most attention. On it, Williams sits on a throne in a black lace leotard with her bare legs draped over the side and black heels on her feet:
It's a cover that inspires the question: Should a woman whose athletic prowess is virtually unmatched be glamorized almost exclusively for her body — especially given the long, tortured history of black women's bodies in media?
That answer depends on who you ask, and there will likely be many think pieces about it in the coming days. For now, though, it's safe to say that Williams absolutely slays on this cover, just like she does on the tennis court, where she won 53 of her 56 matches this year. She looks powerful and gorgeous and confident in her femininity — which has been attacked again and again and again. Her body will be a topic of discussion no matter what she does — black women's bodies always are — but in this photo, she's absolutely owning it. 
Slay, Serena. Slay.