7 Reasons Baltimore's Mistrial of Justice Happened Long Before Freddie Gray Died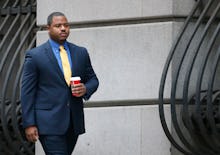 Jurors in Baltimore could not decide on a verdict in the case against William Porter, the first officer tried in the death of Freddie Gray. On Thursday, the judge in the case declared a mistrial. 
Porter is the first of six officers to face the court for charges related to Gray's death. The jury of 12 men and women was made up of eight blacks and four whites, and the racial makeup of the jury was a strong concern going into the trial. Porter was charged with crimes that included manslaughter, second-degree assault, misconduct in office and reckless endangerment. 
The officers' indictments came after weeks of unrest in Baltimore following Gray's death in April. At the time, Maryland State's Attorney Marilyn Mosby called the charges "an important step in getting justice for Freddie." President Barack Obama even chimed in, saying of the indictments, "I can tell you that justice needs to be served. All the evidence needs to be presented. What I think the people of Baltimore want more than anything else is the truth...That's what people around the country expect."
But that's not exactly what people in Baltimore expected. "The fact that [these officers] were indicted was a small step toward justice," Adam Jackson, CEO of Leaders of a Beautiful Struggle, a community group, told Mic. "The fact that we even have to go to court to get a result that says if [they're] guilty, to get justice, is already a miscarriage of justice.
"If you have a fundamental capacity to have compassion for black life, it should not be an amazing thing to indict a police officer." 
Black life in Baltimore has long been under siege, and not just by the hands of its notoriously brutal police department. To many observers, real justice in Gray's case will mean coming to terms with the magnitude of institutional failure for which he has become a symbol. That failure is embedded, but not isolated, to its police department. Here's what it looks like:
1. The city's black population is roughly 63% of its total residents, but white residents make twice as much income as black residents. 
2. Jobs for blue-collar black residents are increasingly hard to come by as the city, like many others, shifts away from manufacturing and shipping industries. 
3. Unemployment for young black men between the ages of 20 and 24 in the city was 37%; for white men of the same age, it was only 10%, according to census data.
4. Baltimore is one of America's most segregated cities, and it's one of the nation's leaders in evictions, with more than 7,000 each year; many of those residents are black, according to a report. 
5. Baltimore also has the least amount of social mobility and income growth, according to those same researchers. 
6. Life expectancy in the city's poorest neighborhoods is 20 years lower than in its wealthiest, according to researchers.
7. Schools in Baltimore are so racially segregated that critics have dubbed them examples of "educational apartheid." One researcher from Johns Hopkins followed 800 working-class students from first grade through their early 20s and found that just a sliver of them — 33 — moved from lower to higher income brackets.