Baltimore Schools Are More Afraid of Students Than Its Police Force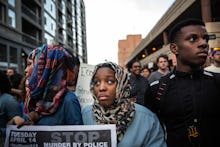 As Baltimore awaits a verdict in the trial of William Porter, the first officer tried in the death of Freddie Gray, city leaders seem particularly afraid of one group of its residents: its students.
At least, that's what many are concluding after a letter to parents from the city's school chief was made public on Monday. Dr. Gregory Thornton, Baltimore City Public Schools CEO wrote the letter to warn families that no violence will be tolerated in the wake of the verdict, which could come down this week. But Thornton seems to have an especially broad definition of what actually constitutes violence. "Students need to understand that we support their right to express their emotions, and that we will facilitate opportunities for them to do so appropriately," the CEO wrote. "However, we need to make it clear that student walkouts, vandalism, civil disorder, and any form of violence are not acceptable under any circumstances."
In a pointed response, student activists who are part of City Bloc, a coalition of student groups, responded to Thornton's letter, writing that it "offensively and dangerously conflates the productive and affirming acts of students with criminal acts that not at all contributed to the advancement of our city."
Baltimore's youth were at the center of last spring's uprisings. Those protests were mostly peaceful until the day of Gray's funeral, when students from several schools clashed with police at a transit hub in Northwest Baltimore. City leaders said that students walked out of school and incited the violence in a plan to "purge," a reference to a 2013 dystopian film in which all violence was legal for one night, according to the Baltimore Sun. But parents and students told a different story. Mother Jones published the story of one teacher, Meghann Harris, who wrote on Facebook:
Police were forcing buses to stop and unload all their passengers. Then, [Frederick Douglass High School] students, in huge herds, were trying to leave on various buses but couldn't catch any because they were all shut down. No kids were yet around except about 20, who looked like they were waiting for police to do something. The cops, on the other hand, were in full riot gear, marching toward any small social clique of students ... It looked as if there were hundreds of cops.
Another teacher, Meg Gibson, told Gawker:
"The riot police were already at the bus stop on the other side of the mall, turning buses that transport the students away, not allowing students to board. They were waiting for the kids ... Those kids were set up, they were treated like criminals before the first brick was thrown."
With that contested recent history in mind, Thornton's letter struck a particularly sour note with students and their allies. The American Civil Liberties Union of Maryland issued a statement saying the letter "creates a sense that the school leadership does not want students to talk about the issues raised by Gray's death or how the justice system is addressing it. The school system's letter could instead foster constructive conversation about those issues as part of students' civic education."
City Bloc urged students not to be deterred by Thornton's threats. "Do not let yourselves be intimidated into silence. Our voices are extremely valuable, and as a population that largely does not yet have the right to vote, our ability to protest is equally as significant."
Late Monday, city school officials issued another statement, saying, "There is no intent to quell student voice and we have provided our schools with resources aimed at educating students on constructive ways to express their opinions."