The Internet Is Freaking Out About a Sexist Christmas Family Photo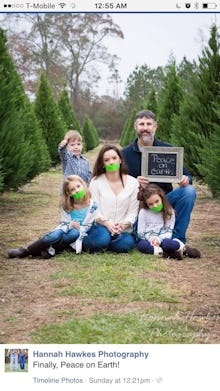 Women! Amirite? They're either perioding all over your furniture or gabbing about some nonsense, like Beyoncé or dogs or latte art on Instagram. We might as well just slap some tape over their mouths, stick 'em in the middle of a rural pine tree farm and call it a day. 
That, at least, seemed to be the reasoning behind this Christmas family photo by Hannah Hawkes, a photographer in Rosepine, Louisiana, who snapped the following charming image, which is going viral on Reddit:
According to her Facebook fan page (which has since been deleted), Hawkes posted the photo on Sunday afternoon. While some expressed their support for the photo, laughing it off as a harmless joke, other Facebook commenters accused the photo of being sexist and silencing women. 
"This is absolutely awful and tasteless. There is no humor here," one woman wrote. Another user chimed in: "Fixed it for you," along with a Photoshopped version of the image with the chalkboard reading "Patriarchy on Earth." The photo has since made the rounds on Reddit, with people arguing that the image of the mother and daughter with their mouths duct-taped shut contributes to centuries of female oppression.
"Now I get this may be a joke. Whatever. Joke to you and your family," a commenter wrote. "A real struggle for women in America because as a woman our opinions are taken as inferior and not valued in comparison to mens [sic]." 
In response to the uproar, Hawkes posted a defense of the photo on Facebook before deleting her page altogether. "I do not support abuse or the degradation of women," she wrote. "My controversial photo was taken by request by the family and was in no way meant to promote abuse."
Hawkes has not returned Mic's request for comment. 
Get the five stories that will challenge you to rethink the world by signing up for MicCheck Daily.