White Sam's Club Shoppers Demand "Safe Space" Away From So-Called "Racist Blacks"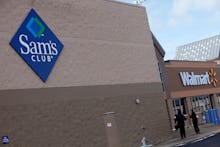 White Sam's Club shoppers are demanding a safe space away from a company whose CEO is articulate and intentional about racism in the business world.
By most accounts, Rosalind Brewer is one of the country's top CEOs. Since 2012, she's been at the helm of Sam's Club, which has more than 650 stores and is the country's eighth-largest retailer. 
But Brewer is taking heat after appearing on CNN and telling Poppy Harlow that she believes in diversity, mentors younger women of color and is dismayed that the company's top suppliers are often filled with high-ranking white males. To some white Sam's Club shoppers, this is simply unacceptable. 
Here are Brewer's comments, as transcribed by the Washington Post:
"My executive team is very diverse, and I make that a priority," she told Harlow. "I demand it of my team and within the structure. And then, every now and then, you have to nudge your partners, and you have to speak up and speak out. And I try to use my platform for that. ... I try to set an example. I try to mentor many women inside my company and outside the company because I think it's important.
"And I talk to my suppliers about it. Just today we met with a supplier, and the entire other side of the table was all Caucasian males. That was interesting. I decided not to talk about it directly with [the supplier's] folks in the room because there were actually no females, like, levels down. So I'm going to place a call to him."
Frustrated Sam's Club members, who appear to be incredulous that institutional racism not only exists, but also manifests itself at the top of America's economic power structure, are threatening to boycott the store:
The backlash has prompted leaders of Wal-Mart Stores Inc., which owns and operates Sam's Club, to respond publicly. CEO Doug McMillian said in a statement that was posted on Facebook: "For years, we've asked our suppliers to prioritize the talent and diversity of their sales teams calling on our company. Roz was simply trying to reiterate that we believe diverse and inclusive teams make for a stronger business. That's all there is to it and I support that important ideal."