Burn Victim Who Lost Family in Fire Gets Trip to Disney World for Christmas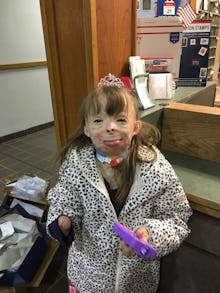 On Monday, Safyre Terry, 8, and her aunt/guardian Liz Dodler were presented with an all-expenses-paid week-long trip to Disney World by non-profit organizations Baking Memories 4 Kids, according to Today. Terry is the lone survivor of a house fire that occurred two years ago, killing her other siblings and father. The trip will occur in February, but Dodler has been keeping it a secret since this past March, WNYT reported. 
"I was so emotional and so happy when Frank told me about the trip," Dolder told Today about Frank Squeo, founder of Baking Memories 4 Kids. "To know that, for one week, I will get to forget about all the pain and take a vacation with my family — it's wonderful."
Since the fire, Terry has undergone over 50 surgerical procedures. She has burns on 75% of her body and lost her right and left foot from the fire. Terry garnered national attention when a post by her aunt asking for Christmas cards and presents went viral. Terry received more than 195,000 cards for her request, ABC reported.
A classmate of Terry's, Zachary Cunniff, nominated her for the trip because of her known love for the Disney movie Frozen. Cunniff and his younger brother Caleb, who had spinal muscular atrophy, were also trip recipients, Today reported.
The Dodler family also has a YouCaring campaign, which is a charitable crowdfunding platform, to help fund her operations and treatments. She's earned more than $300,000 as of Tuesday afternoon.
"The world coming together to make Safyre's wish come true is unfathomable," Dodler wrote on Safyre's Facebook page. "All along we knew God saved her for a reason, never in ours wild dreams, did we think she would move the hearts of many worldwide." 
Correction: Dec. 15, 2015