You Have Kylie Jenner to Thank for the Most-Googled Beauty Trend of 2015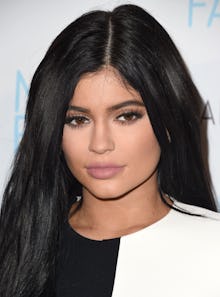 Kylie Jenner was certainly on our minds this year, but not always for the best reasons. The troublesome and potentially dangerous "Kylie Jenner lip challenge" that surfaced earlier this year on the web was the most searched beauty trend on Google, according to Google Trends.
This week, Google released its top search queries of 2015 in a number of categories like recipes and sports teams. When it came to beauty questions, Jenner's pop culture influence was evident.
"How to do the Kylie Jenner lip challenge?" was the number one most-searched beauty question, while "What are lip fillers?" was the second.
Jenner's plump pout became the subject of debate at the end of 2014, when people began speculating as to whether she had undergone plastic surgery, or if she just had the most impressive lip liner skills known to womankind. Photos of her at the time showcased a marked contrast to her visibly thinner lips in past photos. 
By spring, teens were trying to get Jenner's plump pout on their own by sucking on a glass to temporarily inflate their lips. The "Kylie Jenner Challenge," as it was called, often went awry and bruised the mouths of teens who tried it, creating a social media craze and lots of doctors questioning its safety. The consensus? It's stupid and dangerous. 
But riskiness has never stopped people from pursuing unrealistic beauty standards before. Case in point: The whole brouhaha ended when Jenner admitted that she got her pouty mouth with not surgery, but temporary injections called lip fillers.
Which led, of course, to the second-most Googled question: "What are lip fillers?" All the internet research had real-life effects, as various cosmetic surgeons reported a rise in injection procedures requested by patients.
"We definitely see a lot of young people coming in with photos of Kylie who just want a sexier look," Yael Halaas, a facial plastic and reconstructive surgeon in New York City, told the New York Daily News, confirming she was treating up to 20 teens a week with lip plumpers.
For those not ready for needles, the drive for bigger lips was evident from makeup trends. Jenner's own "Kylie Lip Kit" with matching lip liners and lipsticks have sold out twice, once in November and once in December. This caused frustration among her followers (but probably glee among makeup manufacturers, who can rest assured that lipstick and lip liner are still massive trends).
It can then be said that 2015 was the year the internet became obsessed with plump lips and how to get them. Time will tell if 2016 brings us a new body part or reality star to obsess over. In the meantime, we'll have to wait in line for the Lip Kit by Kylie — it's still sold out.